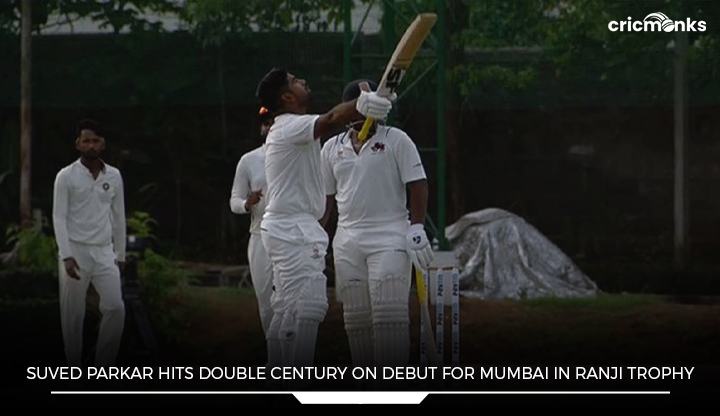 Mumbai batsman Suved Parkar made his Ranji Trophy debut, scoring a double century versus Uttarakhand in the present quarter-final match. He was brought into the current squad to replace injured seasoned batter Ajinkya Rahane, and he scored a hundred on the first day itself. Former Mumbai captains Sachin Tendulkar and Ajinkya Rahane, as well as current captain Prithvi Shaw, have all done it previously. Mumbai has been a strong side over the years as many of the greats of the game have been from the particular state.
The right-handed batsman, who is 21 years old, managed to surprise on day two of the match, scoring a double hundred in the second session. Besides current coach Amol Muzumdar, he remained only the second Mumbai batter to accomplish this achievement. Muzumdar, a Mumbai mainstay, hit 260 runs against Haryana in the 1993-94 season. Shakib Al Gani of Bihar holds the record for the greatest first-class debut score of 341 runs, which he scored versus Mizoram previously this season.
Mumbai declares on 647/8 after Suved Parkar's run-out:
After some outstanding innings by youthful batsmen Suved Parkar, Sarfaraz Khan, and Armaan Jaffer, the Mumbai side is appearing formidable to enter the semifinals stage. Suved Parkar was second fiddle to in-form local hero Sarfaraz Khan on day one, and both players were undefeated. On the second day, Khan increased his onslaught, scoring 153 runs at an amazing strike rate of 74.63. Mayank Mishra knocked him out, but Mumbai all-rounder Shams Mulani put together a strong sixth-wicket stand with Parkar.
Parker hit some tremendous strokes in the afternoon session to help the team reach the double digits, and he achieved the double digits on his 375th ball. He was unlucky to be dismissed for 252 runs, only 8 runs short of Amol Muzumdar's debut milestone. After Parker's departure, Mumbai skipper Prithvi Shaw declared the batting with 647 runs on the scoreboard. Parker's mates and coach, Amol Muzumdar, greeted him with a thunderous ovation for his double hundred.
Parker has also played for the India U19 team, however, he has not had much of an effect. However, his domestic successes with the Mumbai U-14, U-16, and U19 teams helped him win his first Ranji Trophy appearance. Even if Ajinkya Rahante comes back from injury in schedule, he is expected to preserve his position in the current squad for the prospective semi-final encounter.
The group stage matches of the Ranji Trophy were played prior to the scheduled IPL 2021 which was eventually won by the Gujarat Titans who came into the championship as underdogs. The remaining knockouts of the Ranji Trophy were scheduled right after the conclusion of the IPL cycle.