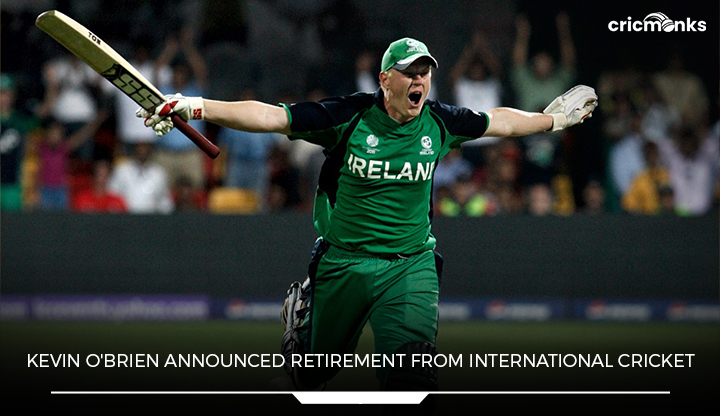 Kevin O'Brien, the hard hitting Irish all-rounder and popular figure, announced his retirement from international cricket on Tuesday (August 16) afternoon. The news was announced on the player's official Twitter account, where he thanked his trainers, friends, family, and supporters for their unwavering support during his professional career. Kevin O'Brien is one of the most important members of the Irish nations cricketing voyage throughout the years where they faced many ups and downs.
Kevin O'Brien was one of Ireland's greatest cricketers, appearing in 266 matches throughout all forms throughout a 16-year career with the national squad. The ferocious batter mentioned in his tweet that he was thinking about retiring after the T20 World Cup in Australia later this year. Nonetheless, due to his exclusion from the Irish T20 team following last year's humiliating World Cup campaign, he opted to call it quits early. Ireland suffered a heavy loss to Namibia in their final ICC T20 World Cup 2021 match. That was also the final occasion that the Irish all-rounder appeared for the side. He is the first Irish cricketer to have scored a Test century and is the third best run-getter for the country in 50-over cricket, with 3619 runs and 114 wickets to his record.
Kevin O'Brien rose to fame after a memorable evening at Chinnaswamy in 2011
Kevin, the younger brother of veteran Irish cricketer Niall O'Brien, spent the most of his career with his brother when the latter retired in 2018. With 1973 runs for the Men in Green, the 38-year-old is the nation's second-highest run-getter in the game's shorter version, trailing only Paul Stirling. His 729 runs in T20Is in 2019 are the fourth most by a batsman in a calendar year.
In his ODI career, the all-rounder scored two hundred, one of which was perhaps the finest innings by an Irish hitter ever, when he smashed the English spinners in a memorable World Cup match in 2011. The Bengaluru audience watched the quickest century in World Cup history as the Irishman smashed 113 off only 63 deliveries to surprise England in a dramatic three-wicket victory.