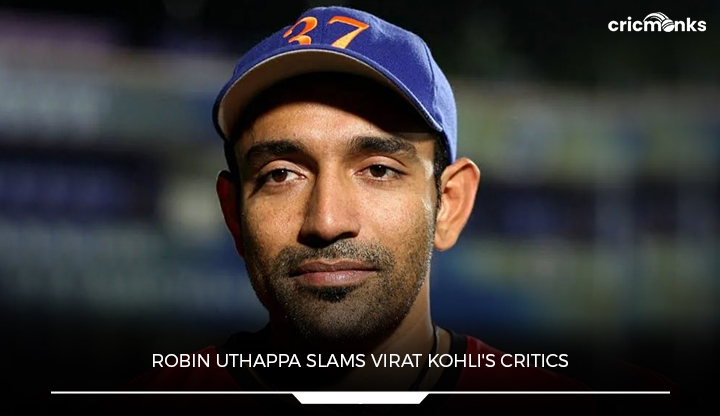 Renowned Indian cricketer and Chennai Super Kings batsman Robin Uthappa has joined the ever-growing Virat Kohli bandwagon, slamming out at the ex Indian skipper's detractors and stating that no person has the authority to challenge the batting legend's status in the Indian side. Nobody is surprised by Kohli's awful form with the bat, while he has been chastised for it by numerous cricket analysts. However, the exquisite Indian batter has received encouragement from a variety of players and former players, including Pakistani captain Babar Azam and former pace sensation Shoaib Akhtar, who both encouraged the Indian batsman to escape from this perilous lean streak.
Robin Uthappa, the 2007-T20 World Cup champion, disputed Kohli's comments, saying that no one advised him about his batting approach when he was getting hundreds for pleasure, therefore they had no obligation to teach him how and where to bat despite earning 70 international hundreds. He endorsed the great batter's powers, predicting that he will hit another 30 or 35 hundreds while also trusting in his own capabilities.
"When he (Virat Kohli) was scoring runs, when he was hitting hundred after hundred, nobody said he should play like this or that. Now, I don't think we have any right to tell him how to play. He has scored 70 hundred thanks to his own abilities, and he will score another 30 or 35 also on his own abilities," Uthappa said, speaking on ShareChat's Audio Chatroom session.
Virat Kohli is a match-winner and he is the best in the world: Robin Uthappa
Kohli scored 45 runs in four white ball games against England, and his place in the squad has been called into doubt with the rise of Deepak Hooda. However, Uthappa feels that as a seasoned quality player and the greatest in the globe, the Indian superstar earned the privilege of taking a sabbatical from the game if the situation isn't going well for him.
"If he feels it is fit for him to take a break, then he can take a break. He is a match-winner, one of the proven match-winners, and he is the best in the world. We have no right and authority or no ground to stand on and question his ability to win matches or question his position in our team," Uthappa added.