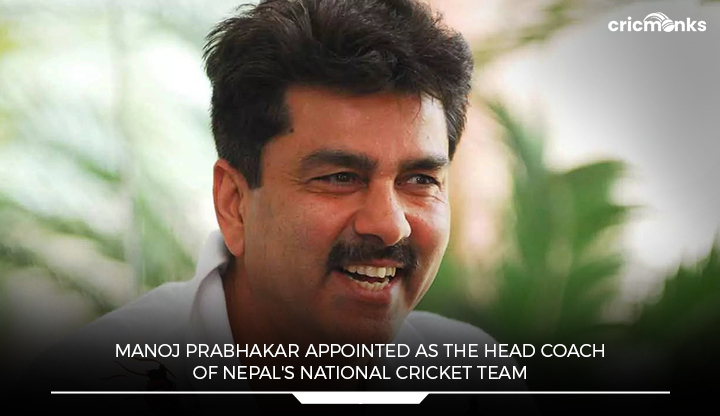 The former Indian Cricket bowler Manoj Prabhakar has been named head coach of the Nepal squad, according to the Cricket Association of Nepal. He replaces Pubudu Dassanayake, the veteran Sri Lankan Test wicketkeeper-batter, who quit the role in July for "personal matters" and went on to assume an identical position with the Canada men's team.
Prabhakar represented India in 169 international games as a bowling all-rounder. Prabhakar got his first Team India appearance in an ODI against Sri Lanka at Sharjah in April 1984. He later made his Test debut in December 1984. Until he joined Nepal's squad, he worked as the bowling coach for Afghanistan's squad. Prabhakar has formerly coached the Delhi, Rajasthan, and Uttar Pradesh Ranji teams. During 1984 and 1996, he appeared in 130 One-Day Internationals and 39 Tests for India.
"Former Indian star all-rounder and Ranji trophy winning coach, Mr. Manoj Prabhakar from India has been appointed as the Head Coach of Nepal National Cricket Team. Mr. Prabhakar has played 39 Test matches and 130 One-Day Internationals for India. As a coach, he has experience of working as coach of the Afghanistan Cricket Team along with Ranji Trophy teams of Delhi, Rajasthan, and UP Cricket Association," The Cricket Association of Nepal said in the official statement.
I'm really looking forward to working with the Nepal cricket team: Manoj Prabhakar
The Nepal Men's Cricket Team has eight wins in 20 games, placing them second-to-last in the ICC Women's Cricket World Cup League 2 rankings. After Ireland and the UAE qualified for the ICC Men's T20 World Cup Qualifier, Nepal cricket has struggled to compete on the world stage, according to a competition in Oman. As an outcome, they did not qualify for the ICC Men's T20 World Cup in Australia in 2022.

"Seeing the interest for cricket in Nepal, their talent & skill level, I'm really looking forward to working with the Nepal cricket team to make them into a cricketing force to be reckoned with," Prabhakar was quoted as saying in a statement by the board.