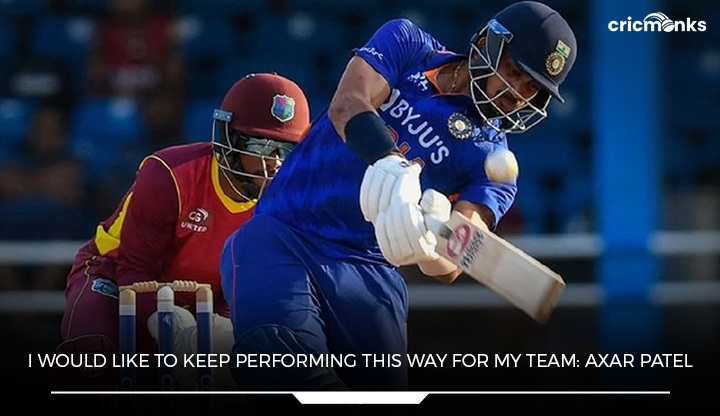 Axar Patel stole the show and countless cricket souls as he struck a six in the last over versus West Indies to put the match out of reach. Once the bowlers got rid of the in-form Shreyas Iyer and Sanju Samson, the hosts threw tourists India in difficulty, but Patel's undefeated innings of 35 balls and the last over six to clinch the 312-run pursuit won India the ODI series.
The third and final ODI of the series will be played at the same ground – Queen's Park Oval in Port of Spain, Trinidad – and all attention will be focused on Axar Patel. The absence of all-rounder Ravindra Jadeja from the Indian team in the opening game was owing to a knee ailment. While Shikhar Dhawan and Mohammed Siraj did the majority of the work in the initial match, Patel took over in the following game.
"I think this is a special one. It came at a crucial time and also helped the team to win the series. We have done the same in the IPL. We just needed to remain calm and keep the intensity up. I was playing an ODI after close to 5 years. I would want to continue performing like this for my team," said Patel in post-match presentation.
Axar Patel is a typical Nadiad boy, he never feels pressure: Vijay Patel
Axar Patel's close friend Vijay Patel, who was also the coach when the younger made his debut for Gujarat also shared his views on Patel being cool under pressure.
"Axar is a typical Nadiad boy. He never feels pressure. Small-town kids are tough, fearless people. I have known him since his under-16 days for Gujarat. He's very focused and mentally relaxed. Success or the India cap hasn't changed him. He's still very humble. We spoke today. He was really happy. He's enjoying his life and cricket. He's such a jovial character that the dressing room atmosphere is different when he's around. He makes other players enjoy him."
Axar Patel has taken advantage of his chances, given he only receives these whenever Ravindra Jadeja, who possesses the same technical talent, is unavailable. That can't be easy, especially given that he has infrequently played for India, going full tours without even seeing it. Nonetheless, he remains untouched by the situation.
"Sometime back, there was a phase when Jadeja was doing so well that Axar almost seemed forgotten. However, he seemed completely relaxed about it. 'Don't worry sir. Aage dekh lenge (we'll see in the future)' he told me. He wasn't feeling any pressure. It doesn't make a difference to him if Jadeja is around or not. He's only focused on his own performance. As I said earlier, he's just relaxed and enjoying his game. It's this attitude which helps him keep performing well," Vijay Patel added.