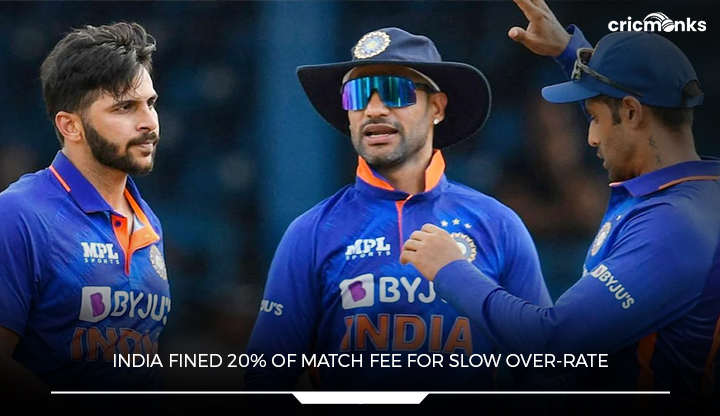 India has been penalized 20% of team match fee for a poor over rate against the West Indies in the first One-Day International (ODI) on July 22 at Port of Spain. The Indian team, captained by Shikhar Dhawan, came one over below the objective when bowling second. The home side got near to a 309-run mark, but India won by three runs and grabbed a 1-0 lead in the three-match series. Half-centuries came from Dhawan, Shreyas Iyer, and Shubman Gill, while Mohammed Siraj claimed two wickets while saving fifteen runs in the last over to win the match for India.
The ICC Code of Conduct for Players and Player Support Personnel states that players are penalized 20% of the match cost for each over that is not completed in the stipulated time frame. The Indian team was fined by Richie Richardson of the ICC Elite Panel of Match Referees when captain Dhawan pleaded and acknowledged the penalty. As a result, no official inquiry was required, which could have included on-field officials Joel Wilson and Leslie Reifer, third umpire Gregory Brathwaite, and fourth umpire Nigel Duguid.
India Were Also Fined Recently During Rescheduled England Test
The Indian red-ball side was also penalized 40% of their match fee recently during the game against England. THe penalty also resulted in the deduction of two points in the World Test Championship (WTC) table. In the absence of regular skipper Rohit Sharma, Jasprit Bumrah led the team which resulted in a seven-wicket defeat. After the penalty, India fell to fourth place in the WTC standings, and the administration wanted to solve this reoccurring issue. However, it appears that the Indian squad is unable to sustain the over rate while securing a large total.
Retired Australian legend Ian Chappell has slammed the International Cricket Council's slow over rate standards, which he believes are too lax. He argues that the skipper should be barred from the next games because of the slow run rate, as a reduction in the match price is insufficient to pique the players' interest.