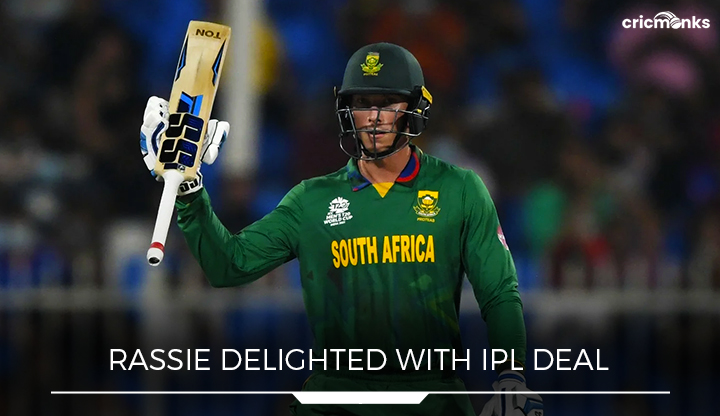 The stylish Proteas batter Rassie van der Dussen was bought by Rajasthan Royals in the last round of Mega Auctions. He is one of the in-form batters for South Africa across formats. Even though he is not a hard hitter of the ball, he has the special ability to rotate the strike, and accelerate through the innings. He is one of the most stylish batters at preset who times the ball beautifully and is capable of playing the longer innings in the middle. Rassie van der Dussen said that he is extremely happy to represent Rajasthan Royals as he was a fan of the team since Graeme Smith used to play for them. The South African batter is delighted to hear that he was picked by the Rajasthan franchise in the recent mega-auction.
The fellow Pretorian has been the epitome of consistency for his national side for a reasonable amount of time. He is too good a player across formats and in the format like T20 where the power game is required, he was also able to adapt according to situations. There are very few players that are able to survive in the shortest format without having the power game. The Australian batter Steve Smith and England red ball captain Joe Root are no longer consistent members of their T20 national side because of the same reason. This is what makes players like Van der Dussen different. He is one of the very few who can actually increase the run rate by playing classic shots rather than brutal hits. He also has the ability to pull the trigger to clear the fence if needed.
In the recently concluded T20 World cup that happened in UAE, Rassie impressed on and all with the unbeaten innings of 94 against England which had one of the strongest bowling attacks in the whole tournament. The innings came against a strong England side in Sharjah which secured a win for his national side. He was also awarded the man of the match for his wonderful knock. Rassie played only five games and scored 177 runs with an impressive average of 59 with a 116.45 strike rate. He was the main man for his side in the recently concluded ODI series against India as well. He scored 218 runs in the whole series including an outstanding century.
Rassie said that he is extremely happy to be part of the side which is close to his heart and is closely followed for a long time. He said that he used to follow the franchise since the former South African skipper Graeme Smith used to play for them and also told that he is very excited to join the squad for the upcoming season of IPL. He was unsold during the initial rounds and the Royals waited till the last round to bag him at the base price. He expressed his gratitude for joining his favorite side in IPL.
"It feels good to be acknowledged, and I've always been a Rajasthan Royals fan since the early days of the IPL when the likes of Graeme Smith played there. It's a team I've always followed; I'm very happy to be representing the franchise, and it's an exciting prospect for me."
Rassie van der Dussen feels that he has evolved as a batter
Rassie senses that in order to evolve his game he needs to adapt to different challenges to better himself with time. Even though he started his career as an opener he has adapted brilliantly as a middle-order batter for his national side. He has been a mainstay for the Proteas across formats and has now mastered controlling the innings in the middle. He feels that it is about time he takes up new challenges to reinvent himself to be a better cricketer. He likes to take up new challenges by playing on difficult surfaces having varied scenarios in the game. He said:
"It's been a long time coming. and having started my career as an opener, my game required some evolution. I feel like I'm at a stage of my career where I've got most aspects of my game covered from a versatility perspective."
"Playing in different conditions over the past few years has been really challenging, but I felt I've adapted well. and that's key for a middle-order batter. One has to be adaptable. and have a particular set of skills in all aspects, as India will be a different challenge."