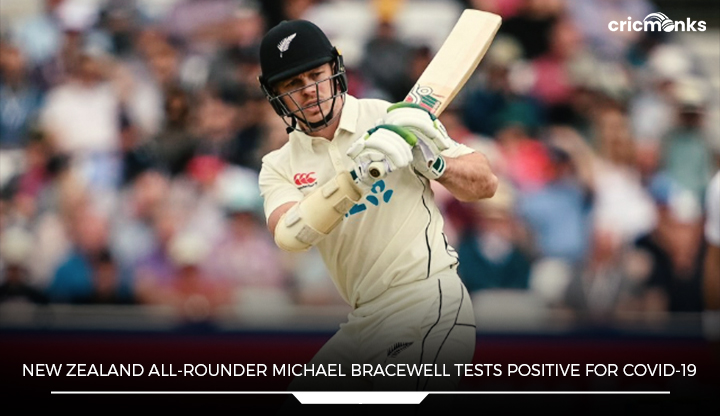 The New Zealand all-rounder Michael Bracewell tested positive for the new coronavirus the day following the second Test's concluding final day, amid England's stunning victory against New Zealand at Trent Bridge in Nottingham. Bracewell was a member of the New Zealand team's playing lineup. On the last day of the second Test, the hosts defeated the tourists by a margin of five wickets, and Bracewell, who had made his Test debut, found himself on the opposite spectrum. After captain Kane Williamson, Bracewell was the second member of the team to test positive for the Covid-19 virus.
The squad was captained by Tom Latham in his place when the captain was forced to withdraw from the second Test. The remainder of the New Zealand team promptly performed a fast antigen test after receiving the story to determine whether there had been a wider spread among the team. Bracewell will now undergo a five-day spell of confinement to recuperate from the illness, and it is anticipated that he will be available for the third and final Test match at Leeds' Headingley, which is scheduled to start on Thursday, June 23.
England have won the three-match Test series, leading by 2-0
In terms of the way the series has played out thus far, England's victory in the opening Test at Lord's was a significant turnaround in the event's conventional format. The English team had only won one of their preceding 17 Test matches and was sitting at the bottom of the WTC standings when they faced the reigning World Test Champions for the first match.
After dominating the first two matches of the three-match series against New Zealand, England secured a series victory due to the game's centurions, Joe Root, Ollie Pope, and Jonny Bairstow. Root's hundred had contributed to England winning the first Test, and he continued his strong form by hitting another hundred in the first innings of the second Test.
However, Ollie Pope accompanied him in the jubilation by reaching his hundred in the first innings, while Jonny Bairstow became the second-fastest English batter to smash a century by doing so in just 77 deliveries on the penultimate day of the second Test. England won the series in the most elegant way because of his performance and captain Ben Stokes' undefeated 70-ball 75*.