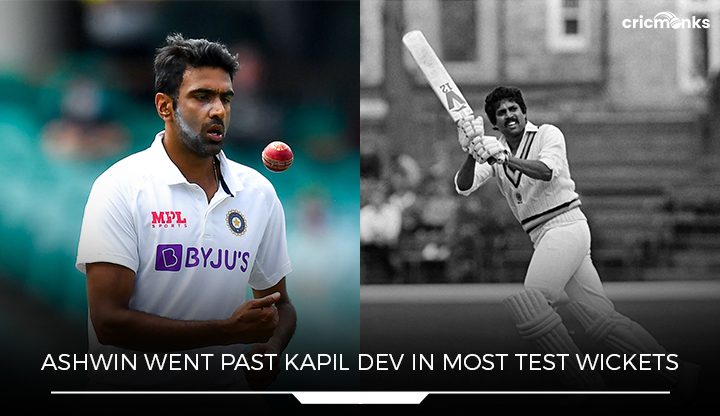 The Indian International Ravichandran Ashwin has passed the iconic all-rounder Kapil Dev's tally of wickets to become India's second-highest wicket-taker in test cricket after Anil Kumble. The off-spinner has expressed his joy and gratitude for achieving this tremendous feat and said that he had never thought of surpassing the legendary all-rounder Kapil Dev. He said he never dreamt of going past Kapil Dev's tally and he will always be grateful for what even the game has provided him throughout his career.
Ashwin achieved this feat on the third day of the Mohali Test match against Sri Lanka. The 35-year-old veteran spinner surpassed Kapil Dev's tally of 434 test wickets and he thus became only the second Indian to take the most number of wickets in the longest format after Anil Kumble who is fourth on the list overall with 619 wickets to his name.
Ashwin once again rewrote the history books when he dismissed Sir Lanka's Charith Asalanka in the second innings after captain Rohit Sharma enforced follow-on against them. The Lankan Lions were not good enough as they failed to show any real resistance and eventually fell against the mastery of Indians spinners to lose the match by an innings and 222 runs. 
Ashwin achieved the feat in just 85 matches, 46 less than Kapil's 131.
"28 years ago, I was cheering the great @therealkapildev on to get his world record tally of wickets. I never had the slightest of ideas that I would become an off-spinner, play for my country and even manage to go past the great man's tally of wickets. I am delighted and very grateful to what this game has given me so far," Ashwin wrote on his Instagram page after India's win over Sri Lanka.
It is quite surprising to know that Kapil Dev also took his 432nd wicket against Sri Lanka during a Test match in Ahmedabad in 1994. He surpassed the legendary New Zealand pacer Richard Hadlee at that time to become the highest ever wicket-taker in the history of cricket. 
It was not easy to take wickets in the Mohali pitch: Ashwin
Ashwin spoke to the fans and media after the match saying that it was quite difficult to get wickets on the match. He reflected on the performance by saying that he had to be really consistent with the lines and made them tight for a reasonable amount of time to induce results.
"The surface was quite good, and it was difficult to get batters out while they were defending." "You have to bowl tight lines for long periods of time," Ashwin said after the match which ended within three days. "I believe Shami and Jasprit put pressure on it from the beginning when it wasn't turning much," the vastly experienced spinner said to laud India's pace bowlers for their excellent performance. He also mentioned the all-around performance of Ravindra Jadeja without fail. It was his innings with the bat scoring unbeaten 175 and his nine wickets in the match which was the real difference between the two sides.