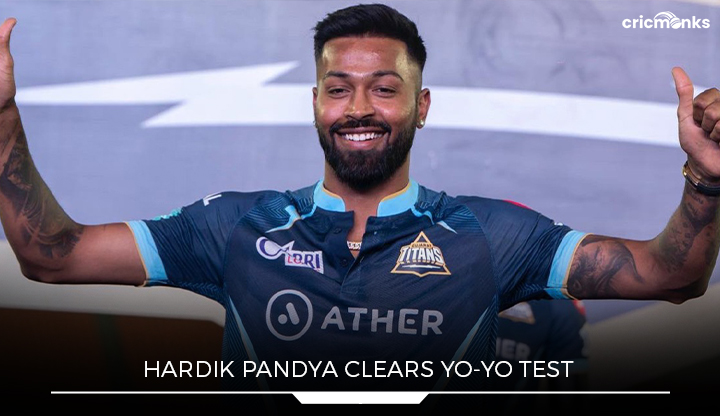 The star Indian all rounder Hardik Pandya has finally cleared the fitness test ahead of the latest season of Indian Premier League. He was picked by Gujarat Titans ahead of the auction and was given the responsibility to lead the side. It is also reported that Hardik has also shown that he can bowl if necessary during the IPL. He has cleared the yo yo test comfortably and will be in action as soon as the IPL begins.
Hardik was a part of the camp organized by BCCI for white ball specialists to track the fitness level of the players. Hardik attended the Gujarat Titans event in Ahmedabad before being a part of the camp. People were really worried about the fitness issues Hardk Pandya has had ever since the back injury. The Indian team was in search of a replacement for Hardik especially in the limited overs format. The doors will once again open for the x factor all rounder if he formforms admirably for the Gujarat franchise in this IPL. 
"Let's make it clear. Fitness test clearance is only for those who are coming back from injury. In case of Hardik, it was about getting a general fitness assessment going into the grueling IPL season. He is an asset and one needed to check his current fitness standards," a BCCI source said.
Hardik Pandya crossed the yo-yo test with 17+ score
It is also believed that the NCA's medical panel did not even order him to bowl throughout his physical training. Hardik Pandya, on the other hand, focused on demonstrating his improved condition as an all-rounder by bowling at approximately 135 kmph. He also passed the yo-yo exam with a score of at least 17.
"He didn't need to bowl at NCA but he has bowled for considerable time and in the range of 135 kmph. On the second day, he crossed the Yo-Yo test with flying colors with a 17-plus score which is much above the cut-off level," the BCCI source added.
Hardik Pandya made his last appearance for India during the T20 World Cup last year and tried to improve his fitness since that time. It will be interesting to witness how the workhorse can maintain his fitness throughout the IPL.