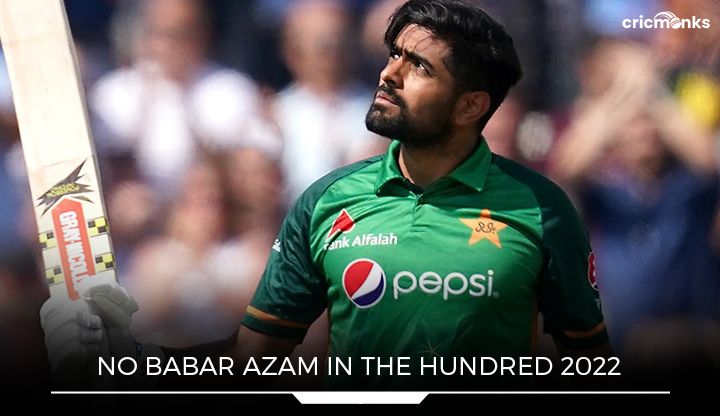 The Pakistan skipper Babar Azam is slowly on the verge of becoming one of the greats of the game as his records and classy shotmaking speak for himself. He has made in presence felt in whichever franchise he represented. Everyone was shocked to hear the news earlier that the Pakistan skipper Babar Azam was not picked by any of the sides during the time of draft picks. It was reported that the T20 batting sensation from Pakistan was unsold at The Hundred 2022 Draft on April 5 (Tuesday) in the United Kingdom (UK).
Both cricket fans and critics had expressed their views on Babar not getting a contract from any of the clubs. After all there, reports that came out now say that Babar was never interested to play in the Hundred competition due to his international fixtures. He had decided to give preference to his international side over this domestic competition. He was on the list of players in the highest priced category of 125,000 for the Men's Hundred 2022 Draft. Eight teams got their hands on the draft and no one picked the classic Pakistani batter.
Babar Azam never applied for the NOC: Reports
It is reported that the stylish Pakistani batter was not at all interested in joining the Hundred competition. He wanted to be fit and ready for his international fixtures which will happen synonymously. Because of the same reason none of the teams in the Hundred ever went in for the star batter at that time.
"Babar Azam never submitted for a letter of authorization for the English summer." That suggests he's not eager, although one of the few foreigners in the top tier," a source told The News.
"He might have easily stepped into any English squad because every English county was looking forward to recruiting him." "However, he decided to avoid stressful responsibilities in order to completely focus on the national summer commitment," the source stated.