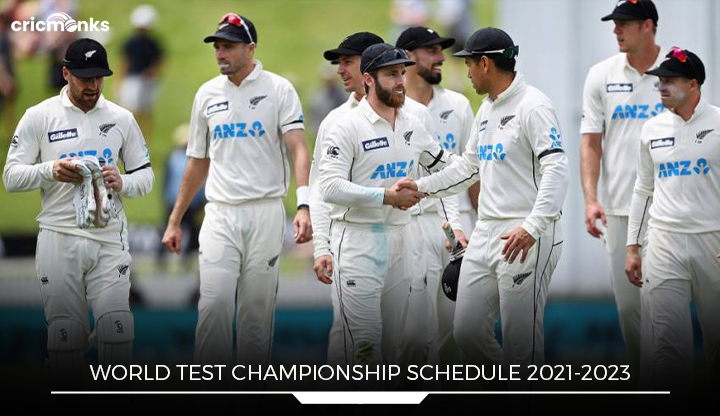 The World Test Championship was introduced just at the right time when everyone thought the longest format of cricket was facing a downhill. The inaugural edition itself was a tremendous success to the cricketing fraternity in general. Well with implications of a test match increasing, teams left no options other than to win. As a result, the standard of Test cricket has improved. India and New Zealand advanced to the inaugural World T20 final after two years of grueling and hard-fought Test cricket.
The prized championship was finally won by New Zealand, who upset India by eight wickets in the final match in Southampton. Following the conclusion of the inaugural WTC, attention has switched to the second version of the grand tournament, which began with the just finished England vs. India 1st Test in Nottingham. The championship will be held in 2023. In this phase, every nation will play three home series and three away series, as per the WTC schedule. The scorecard has also been altered. Rather than the full series, scores will be awarded every match.
Teams will receive 12 points for every match won in this phase, six points for a tie, four points for a draw, and zero points for a defeat. Nevertheless, the percentage of points will remain the major ranking factor. As a result, teams from all over the globe must prepare to establish a name for themselves in the second World Test Championship phase. Heavyweights like New Zealand, India, and Australia are considered favorites to win. But, with each side having three home series, unforeseen results are also possible.
The complete schedule of the ICC World Test Championship is given below
England vs India
1st Test at Trent Bridge, Nottingham, August 4–August 8
2nd Test at Lord's, London, August 12–August 16
3rd Test at Headingley, Leeds, August 25- August 29
4th Test at Kennington Oval, London, September 2–September 6
5th Test at Emirates Old Trafford, Manchester, September 10 – September 14
West Indies vs Pakistan
1st Test at Sabina Park, Jamaica, August 12 – August 16
2nd Test at Sabina Park, Jamaica, August 20 – August 24
India vs New Zealand
1st Test – November 2021
2nd Test – November 2021
Bangladesh vs Pakistan
1st Test – November 2021
2nd Test – November 2021
Bangladesh vs Sri Lanka
1st Test – December 2021
2nd Test – December 2021
Ashes 2021-22
1st Test at the Gabba, Brisbane, December 8- December 12
2nd Test at the Adelaide Oval, Adelaide, December 16-December 20
3rd Test at the MCG, Melbourne, 30 December 26– December 30
4th Test at the SCG, Sydney, January 5 – January 9
5th Test at the Optus Stadium, Perth, January 14 – January 18
New Zealand vs Bangladesh
1st Test – December 2021
2nd Test – January 2022
South Africa vs India
1st Test – December 2021
2nd Test – December 2021
3rd Test – January 2021
Pakistan vs Australia
1st Test – February 2022
2nd Test – February 2022
India vs Sri Lanka
1st Test – February 2022
2nd Test – February 2022
3rd Test – March 2022
West Indies vs England
1st Test – March 2022
2nd Test – March 2022
3rd Test – March 2022
South Africa vs Bangladesh
1st Test – March 2022
2nd Test – March 2022
West Indies vs Bangladesh
1st Test – June 2022
2nd Test – June 2022
England vs New Zealand
1st Test – June 2022
2nd Test – June 2022
3rd Test – June 2022
Pakistan vs England
1st Test – October 2022
2nd Test – October 2022
3rd Test – October 2022
India vs Australia
1st Test – October/ November 2022
2nd Test – October/ November 2022
3rd Test – October/ November 2022
4th Test – October/ November 2022
Bangladesh vs India
1st Test – November 2022
2nd Test – November 2022
Pakistan vs New Zealand
1st Test – November 2022
2nd Test – November 2022