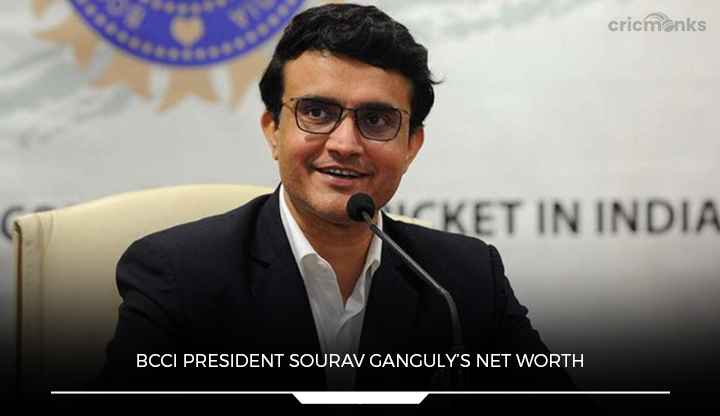 If we go through the history of Indian Cricket, one name that will unquestionably come up is Sourav Ganguly, the ultimate Bengali icon of today. He was once called the 'Prince of Calcutta' by Geoffrey Boycott, and even that high praise from one of the all-time legends of the game becomes an understatement when you observe the love, affection, and honor he receives from all over West Bengal. He changed the way Indians played cricket, and he changed the perspectives of other countries about the Indian team. It was he who let go of the modest and composed style of cricket Indians were usually associated with, and introduced a much more aggressive, fire-and-brimstone approach to the game.
In a way, he was the perfect predecessor of someone like Virat Kohli; with the same passion, same never-say-die attitude, and the same natural swagger. Even the absolute gem of a player that he was pales in comparison to the pathbreaking, trailblazing leader who revolutionized the sport that is the lifeblood of the country of 1.3 billion people. His contributions have not only been contained to the game, but it has beautifully branched to the administrative aspect as well.
Sourav Ganguly is one of the prominent faces of modern-day Indian cricket. During his playing days, the Prince of Kolkata was courageous, inspiring tens of thousands of Indian teenagers to take on the world's giants. Dada has become one of India's most important players in the history of Indian cricket to lead the side. Sourav Ganguly and his imaginative vision during his playing days are responsible for a large portion of India's recent success.
Born on July 8, 1972 to an affluent family in Behala, Kolkata; he was the youngest son of Chandidas Ganguly and Nirupa Ganguly. His father had a thriving print business, and at that time was probably among the richest men of Kolkata (or Calcutta). Sourav was brought into the world of cricket by his elder brother and only sibling, Snehashish Ganguly. But it was David Gower, and his brushstrokes upon the canvas that is the cricket ground, who inspired Sourav to make a life around the game. He started playing for his school and then his state, and through his talent and sheer weight of runs, forced the selectors to choose him for the 1996 tour of England. And the rest, as they say, is history.
Sourav Ganguly's Personal Life
A lifetime of Cricket: conquering at the start, tempest-tossed in the middle, and at long last, triumphant in the end.
It was 2000. The scandals of match-fixing were out in the open. India needed a gritty leader who'd mould the team with all the right virtues. Ganguly came up as a natural-born leader, and from the ashes rose the phoenix. He was an intuitive tactician, and that helped him to steward India through uncharted territories- Test wins in foreign soils and a much more unhinged playing style that was previously uncharacteristic to Indian cricket.
He formed a formidable side with some of the best players of that generation like Dravid, Tendulkar, Kumble, and then pushed and fought with the board for the young guys that he wanted. Yuvraj Singh, Harbhajan Singh, Virender Sehwag- these are some of many names who were given a fair chance under his watch, as he believed that these young guns will change the course of the history of Indian cricket.
India became a strong team in not only defending the homefront, but they earned the respect of other nations through their consistent and improved performance in SENA countries, especially against the mighty, world-beating Australians. India became competitive overseas with help of an alliance that Ganguly created with the much-admired John Wright, India's first foreign coach.
One of the most significant aspects about his approach was to be courageous and always lead by example. He was shrewd with his tactics, and never minded off-hand aggression. The waving of his shirt in the Mecca of cricket, Lord's after India won the Natwest Series is still remembered by one and all as a historic moment when India found the spirit to never bow down, and the whole nation seemed to learn something from that attitude. He even once made Steve Waugh wait before the toss which he obviously didn't like, but it was serving the same medicine he and the Australian team handed out in abundance, disguised as 'mental disintegration'. This was Australia, the team of the invincibles, but Ganguly showed them that there'll be tic for tac as long as he's there.
He did all he could to get under the skin of his opponents on field, and for that, he had to make quite a few visits to the cabin of the match referees. But, he remained steadfast in his vision and style-of-play, and as he unshackled the mindsets of his teams, India grew in stature. Also, his performances as a world-class left-hand batsman and part-time pace bowler always proved his worth in the team.
The peak of his cricketing prowess was India reaching the final of 2003 World Cup. But there was the Natwest Series in England, the 2002 ICC Champions Trophy and the 11 wins in 28 overseas Test matches that built the spine of Indian cricket that has gone from strength to strength to cement their own brand of cricket today. The image, the culture and the entire brand was somehow initiated by Ganguly. His record is much beyond numbers, it was the foundation on which the behemoth that is Indian cricket today rests confidently.
In late 2002, his unexpected yet blitzy century in Brisbane took probably the best team of all-time to a perfect standstill, and he walked the talk of never giving up the fight midway. Then, defeating Pakistan made him a cult hero. All of these events and their underlying significance weaved the legend of Sourav Ganguly pretty intricately.
But it wasn't a bed of roses all the way. It never is. There were failures, heartbreaks, and deficiencies. As his captaincy blossomed, his batting form somewhat dwindled. He was the wonderkid of '96 who dominated the English shores with several top-class hundreds. Then he formed a legendary opening partnership with Sachin in ODIs, a perfect match made in heaven. Even till today, their tally of 8227 runs in 176 innings is unsurpassed and creates awe when you think about it. This dangerous partnership and its success in the shorter format didn't translate to the original test of cricketing skills, the Test matches. Once Rahul Dravid said about Ganguly, "On the offside, first there is God, then Sourav Ganguly".
The effortlessness and class oozed out when he played those square cuts and cover drives. But opponents eventually found the chink in his armor, and that's the short ball. Bowlers in Test matches started to bowl fiery short deliveries at him, and he had no answer for a period of time. Run-making became more and more laborious. But that was just the start of the storm that was brewing inside Indian cricket.
In 2005, John Wright left with all the love and respect from a cricket-crazy country, and in came Greg Chapell. Ganguly selected him himself, but that didn't stop them from creating the biggest rivalry inside the Indian dressing room. Chapell was an Aussie legend in his own right, and held his views and opinions in the highest regard. So did Ganguly. It became a clash of the titans, and for once, Ganguly was defeated by the system he once envisioned. Chapell's constant call for young blood, his public dismay over the performances of the skipper, the dismissive mail to BCCI on Ganguly's dwindling runs and almost nauseating level of focus and emphasis on form over past records somehow convinced the board to drop Dada from the team, pretty unceremoniously.
Though many senior members stood up for him, his recent batting form was pretty poor, he had nothing much to say or boast of in previous two years and has very little public support. It all ended in heartbreak, when Rahul Dravid was named the new captain, and the ax fell on Ganguly.
But the story of the Bengal Tiger wasn't to be ended in disgrace, and he made sure of that. India's embarrassing run and humiliating defeat at the hands of Australia in the 2006 Champions Trophy meant it was now time for some poetic justice, and the Chapell era was over. He never found respect again on the subcontinent. On the other hand, Ganguly plotted a miraculous comeback through steady scores in domestic tournaments. And when he started, it was like the bad patch never existed.
He started the comeback in the tour of South Africa in 2006-07. He ended up being the highest scorer of the series from the Indian side, and then just added a bit of sparkle to his fairytale with 4 consecutive half-centuries in ODIs. His fine form in his twilight continued superbly in England as well where he was the second best in terms of runs scored in the Test series. Then, back home and banging again. He slammed two consecutive centuries against Pakistan and showed that you can't keep quality players down for long.
He batted with assurance, and collected all the reputation back that started with the tear-jerking, now legendary Pepsi's 'Bhule to nahi' advertisement. In 2007, he scored the second most runs in ODIs, just behind Jacques Kallis. He stamped his authority in an even grander style with a man-of-the-series performance against Sri Lanka and proved the old adage right once again that 'Form is temporary, but class is permanent'. He scored his highest score of his career, 239, against the arch-rivals Pakistan in the third Test of the series at Bangalore in 2007. All of that didn't provide a ticket to Australia though, as selectors chose a much younger and dynamic team for the CB Series.
So, when the Australians came on a tour to India, Ganguly decided that it's time to pack up the boots. In the 4-match series, he scored 47, 26*, 102, 27, 5, 32*, 85 and 0 respectively. Though his last innings ended with a first-ball duck, Dada had the last laugh as he ended his career victorious with India winning the series 2-0. In the last test in Nagpur, 2008, MS Dhoni even handed over the captaincy to Ganguly in a show of top-class sportsmanship. Two of the greatest captains of Indian cricket shared this historic moment, where one passed the baton to another, and the young one went on to become the Thala, the biggest superstar of Indian cricket, and an unsolved enigma to this day.
Even after his retirement from International cricket, he continued to play in the Ranji Trophy and then IPL (2008-12). He joined the KKR franchise in the IPL, owned by Bollywood superstar Shahrukh Khan. And though KKR couldn't win the title under his captaincy, his batting was a treat to see in the filled-to-the-brim Eden Gardens cheering Dada's name.
Then he joined the CAB as the president, and brough wholesale changes to its age-old system as well. In general, society believes that if a youngster holds an executive position in an organization, the entire community will profit. This is not the case with Sourav Ganguly since he has constantly performed in cricket with his talent and ability. Bengal has been performing well over the previous 2-3 years. Many talented players have established themselves in India. Ishan Porel, Sudip Chaterjee, Writtick Chaterjee, Anustup Majumdar, Shahbaz Ahmed, and Manoj Tiwary are also in the team. As a result, Bengal players are now competing in the IPL. In the 2019-2020 season, Bengal even competed in the Ranji Trophy final. Therefore, maybe, we'll see Bengal players wearing Indian colors eventually.
Sourav Ganguly and his wife Dona's love story feels like something coming right out of a Bollywood film. He and Dona were neighbors in Behala, and knew each other well from childhood. But there was deep animosity between the two families. But love trumped hate in this case, and they developed a friendship that blossomed into love. So, they eloped and got married. According to a report from Zee News though, the marriage was pre-planned as Ganguly proposed to Dona before leaving for the England tour in 1996. You don't have to scratch your head to find her answer. Dona Ganguly is a trained Odissi dancer, and has her own dancing academy. Later, they got married again, this time legally in a court and with the blessings of their families.
| | |
| --- | --- |
| Name | Sourav Chandidas Ganguly |
| Age | 50 years |
| Date of birth | July 8, 1972 |
| Place of birth | Behala, Kolkata, West Bengal |
| Name of the wife | Dona Ganguly (m. 1997) |
Sourav Ganguly's Net Worth
Before we dive deep into the in-depth accumulation of the net worth of now serving BCCI president of India, Sourav Gangluly, let's take a look at it in a nutshell.
| | |
| --- | --- |
| Net Worth (2022) | $50 Million |
| Net Worth In Indian Rupees | 365 Crore INR |
| Personal Properties | 45 Crore INR |
| Brand Endorsement Fees from Puma | 1.35 Crore Per Year |
| Brand Endorsement Fees from DTDC | 1 Crore Per Year |
| Remuneration from BCCI | 5 Crore INR |
| Luxury Cars | 7 Crore INR |
| Yearly Income | 24 Crore + |
BCCI President Salary and Endorsements:
Sourav Ganguly was designated as the President of the BCCI in 2019. Leading the world's wealthiest cricket board has its own set of benefits. According to a report, Ganguly receives up to 5 crores in income from the BCCI. He is also the President of the Bengal Cricket Association and a representative of the IPL Governing Council.
Ganguly was a top cricketer for the majority of his career. He later had lucrative experiences in the IPL with the Kolkata Knight Riders and Pune Warriors India. Ganguly subsequently made a smooth move to commentary and became a prominent commentator, earning excellent money.
Then came the position as BCCI administrator, which significantly increased Ganguly's salary. He served as President of the Cricket Association of Bengal from 2015 to October 2019. He was elected President of the BCCI in October 2019 and has held the role since then.
According to reports, his monthly pay is more than two crore, and he earns more than 24 crores each year as BCCI president. Ganguly, being a popular figure in the country, drew hefty contracts from sponsors too.
In 2022, Ganguly's net worth is estimated to be somewhere around 365 crores INR. He's considered one of the finest leaders that have graced the game of cricket. Uncompromising, aggressive, and playing hard but fair. The Indian team reached new milestones under him, and the belief that we can beat anybody if we just play it right. When he finally retired from the beautiful game, he started dabbling in various projects and jobs.
He has donned the hats of a commentator, a television reality show host and now managing the most powerful cricket board as an administrator. Ganguly was previously a much renowned and popular commentator. And though there are no details about how much he used to charge, it's an open secret that Indians are the best-paid ones when it comes to commentary because of how in-demand they always are.
And any position he has held throughout his life, he's left a mark on it, and has always left it in a better place than when he started the job. When he was doing punditry, he excelled in it. He also does many endorsements and advertisements, especially in Bengali language. And all of that adds up in his net worth at the end, making him the highest-paid former cricketer in India.
As for his other positions and business ventures, he is a co-owner of the ISL (Indian Super League) football team, Atletico de Kolkata. They have won the championship twice already, and having major stakes in it will only give him greater return in future as the craze of Football never did lack in India, and the want for a world-class football tournament can very well make it a huge spectacle in coming years. He was the president of CAB (Cricket Association of Bengal) before he became the BCCI president, and even now he is one of the 'Honorary Board of Directors'.
After becoming BCCI president, he gets a salary of 5 crores (approx.) for his services. He was announced the 39th BCCI President in 2020 in the month of July. In the process, he became the selected one who brought an end to the control of COA appointed by the honorable Supreme Court of India (because of the court case about BCCI and their internal conflicts). There's a very interesting piece of information that may surprise you about his appointment, and it is that he was the first cricketer after 65 years to become the president of BCCI, the previous one being the Maharaja of Vizianagaram who took the position in 1954.
Before becoming the all-in-all of BCCI, he held the position of CAB president and one of the members of the prestigious IPL Governing Council. According to reports, his salary was 1 crore every year for being the CAB president and additional 10 lakhs every year for his services as a member of that council.
After bossing the cricket fields, he came to television. And, just like always, 'Maharaja' (as he's adoringly called in Bengal) won the hearts and the TRP ratings. He hosts an enormously popular Bengali reality show named 'Dadagiri', which has just finished its 13th season in 2022, and has never suffered from any lack of interest. Being an icon, a living legend among Bengalis, his mere presence is enough to attract a huge audience.
Reportedly, he gets 1 crore for each week as his payment. He even hosted a Bengali version of KBC (Kaun Banega Crorepati) named 'Ke Hobe Banglar Kotipoti' which pumped up his brand value and established dependability as a TV face at the time. It didn't see any real success though.
Though he's retired, his appeal to the Bengali population and even cricket-loving Indians is evergreen and undying. That makes him an ideal choice for endorsements. He's connected to many brands from the regional and national level, but even some International brands have included him in their advertisements and promotions. Some of the biggest companies that are connected with him are- Tata Tetley, Essilor, Senco Gold, DTDC, Puma, Fortune, My11Circle, Chhaya Prakashoni, Captain TMT, Meesho, Lloyd, Ajanta Shoes, Cycle Agarbatti etc.
He is paid 1 crore every year by DTDC for being their brand ambassador. Puma gives him around 1.35 crores as salary every year. Approximately, he takes 1 crore for each advertisement now. Adani Wilmar Limited's (AWL) FMCG brand Fortune has also recruited him as ambassador for their rice bran oil and soya chunks.
Another Indian motorcycle manufacturer from New Delhi, Hero Motors, had him as their ambassador for many years. He has also been the ambassador of Essilor from 2016. He also does marketing ads and promotions for Senco Gold, a 78 year old famous jeweler from Kolkata.
He is the face of Burnpur Cement too, one of the biggest cement manufacturers of East India from 2016. He also did ads for the International food company KraftHeinz, the makers of the world-famous Heinz sauce. He has been the brand ambassador for My11Circle, one of the biggest fantasy sports platforms in India.
There are a few other companies and brands who have formed partnerships with him such as: Classplus, an edutech company (from 2020); Livinguard AG, a Swedish company that develops hygiene technology (from 2020); and Tata Steel, the biggest iron and steel products manufacturer.
Properties and Cars:
Dada's primary residence is a lavish palatial house, his ancestral home from childhood in Behala. He lived there with his wife and daughter before his daughter Sana decided to study abroad in England.
According to reports, the house is valued at 7 crore rupees right now, and because of his sky-high popularity, it's generally considered as a landmark of the area and the whole metropolis as well. A couple of years ago, he also bought a sumptuous new bungalow-style house for 40 crores on Kolkata's Lower Rawdon street. It is among the biggest assets in his total net worth. He told Telegraph "Happy to have my own home. I think that's what it is. Living centrally will also be convenient, and the hardest bit is to leave a place where I lived for 48 years."
He also owns property in London, and enjoys the stay whenever he's in London. He bought the two-bedroom house in 2008, situated nearby Central London with a 45 minutes drive to reach there.
Though not an enthusiast, he does like cars, and he owns a few luxury rides. Some of the best ones are Mercedes Benz CLK (46 lakhs), BMW Series 7 (1.42 crores), Audi Q5 (55 lakhs), BMW X4 (70 lakhs), Ford Endeavor etc. Some reports have even suggested that he has purchased over 20 cars from Mercedes in his life.
| | |
| --- | --- |
| Value of personal properties | 48 crores (approx.) |
| Price of luxury cars | 7 crores (approx.) |
| Yearly income | Over 24 crores |
Interesting facts:
In general, society believes that if a youngster holds an executive position in an organization, the entire community will profit. This is not the case with Sourav Ganguly since he has constantly performed in cricket with his talent and ability. Bengal has been performing well over the previous 2-3 years. Many talented players have established themselves in India. Ishan Porel, Sudip Chaterjee, Writtick Chaterjee, Anustup Majumdar, Shahbaz Ahmed, and Manoj Tiwary are also in the team. As a result, Bengal players are now competing in the IPL. In the 2019-2020 season, Bengal even competed in the Ranji Trophy final. Therefore, maybe, we'll see Bengal players wearing Indian colors eventually.
Though he's become a legend of cricket, his first love was Football, which is dangerously popular in West Bengal and especially Kolkata. This popularity is further condensed by the age-old rivalry of two legendary football clubs of Kolkata maidan: FC Mohun Bagan and East Bengal FC.
He has even played a few club games of football for Chiraag. He's also an avid fan of Diego Maradona. But cricket grew closer to him somehow, and it used to thwart his academic performance, to the dismay of his mother Nirupa. His brother Snehashish actually brought him into the world of cricket as he himself became a pretty important part of Bengal's ranji side.
When Ganguly and Dona fled away from their homes and completed their marriage without letting any of the family know about it, there was a bit of probable trouble attached. But it all ended in peace and acceptance. Ganguly and his father-in-law went on to become good friends, according to Ganguly himself.
There's a rumor that he once refused to carry drinks for the team because he belonged to a pretty wealthy family. He was even dropped from the team then. But Ganguly has always denied these allegations as baseless and untruthful.
For all of his tremendous achievements as the captain of the national cricket team, he was garnered with the Arjuna award in 1997.
In 2004, he also received the Padma Shri award, the highest civilian honor of India. The Government of West Bengal also honored him in 2013 with the Banga Bibhushan award.
Records, achievements:
He is the only cricketer ever to get 4 back-to-back Man-of-the-Match awards in ODIs.
He sits on the ninth spot in the list of top run-scorers of all-time in ODIs with 11363 runs to his name. He's also the third among Indians.
He scored the highest score by an individual in an ICC Champions Trophy final: 117. He was also the first player to get three hundreds in the Champions Trophy.
He is the fourth quickest to score 9000 runs in ODIs. He remained at the top for over a decade before being toppled by AB De Villiers first, and then Rohit Sharma and Virat Kohli. He's also the fourth fastest batsman to reach 7000 and 8000 runs.
He's a member of a pretty unique list of those who have achieved the ultimate treble in ODIs with 10000 runs, 100 wickets and 100 catches. Only six have done this feat. Barring Ganguly, the others are Sachin Tendulkar, Jacques Kallis, Chris Gayle, Sanath Jayasuriya and Tilakratne Dilshan.
One of only 14 to play 100+ Tests and 300+ ODIs.
The only player to have the misfortune of getting out on the very first ball in the last Test innings of his career who also has a hundred in the very innings of his Test career.
He's the third fastest batsman to score 10000 ODI runs (263 innings) just behind Kohli and Tendulkar. He's also the fourth fastest to 11000 (288 innings).
Second most runs in a calendar year in ODIs. He scored 1767 runs in 1999, just behind Tendulkar's tally of 1894 runs in 1998.
Joint second most ODIs hundreds in a year with 7 he scored in 2000. David Warner and Rohit Sharma have scored 7 in 2016 and 2019 respectively. Only behind Tendulkar's 9 hundreds in 1998. Also, he has the 10th most hundreds in an ODI career with 22 tons.
In 28 tests overseas, he won 11 tests. This was a record then, and it continued long after he left the captaincy. Virat Kohli broke the record eventually.
The fifth batsman to score 10000 runs in ODIs when he did it, and only the second Indian after Tendulkar. A few names have been added to both those lists after that though.
Wisen ranked him sixth on the list for their Greatest ODI Batsmen beside some elite company like Sir Viv Richards, Sachin Tendulkar, Brian Lara, Dean Jones and Michael Bevan.
He made his Test debut vs England on June 20 of 1996 and played his last test vs Australia starting on November 6 of 2008. His ODI debut came against West Indies on January 11 of 1992 and he played his last ODI match vs Pakistan on November 15 of 2007.
Career Stats
| | | | | | | | | |
| --- | --- | --- | --- | --- | --- | --- | --- | --- |
| Format | Matches | Innings | Runs | Average | Strike Rate | Highest Score | 50s | 100s |
| ODI | 311 | 300 | 11363 | 41.02 | 73.70 | 183 | 72 | 22 |
| Test | 113 | 188 | 7212 | 42.17 | 51.25 | 239 | 35 | 16 |
| First-Class | 254 | 399 | 15687 | 44.18 | – | 239 | 89 | 33 |
FAQ
How much does Sourav Ganguly earn every year?
Sourav Ganguly earns about 3-6 crore INR each year through sponsorships.
What are the values of Sourav Ganguly's vehicles?
Sourav Ganguly has a Mercedes Benz CLK230, worth 46.55 lakh INR. He also owns BMW 7 series automobiles (worth more than a crore INR) and an Audi Q5 valued 50.27 Lakh.
How much does Sourav Ganguly's house cost?
Sourav Ganguly's mansion costs roughly INR 7 crore.
Do you know how much money Sourav Ganguly makes each month?
How much does Sourav Ganguly get paid in Dadagiri?
Roughly a million dollars a week.
What is Sourav Ganguly's net worth?
He has a net worth in the range of 50 million USD or 365 crores in Indian currency.
How much does Sourav Ganguly earn?
He has a net worth in the range of 50 million USD or 365 crores in IndiaSourav Ganguly's annual compensation is believed to be Rs. 24 crore.