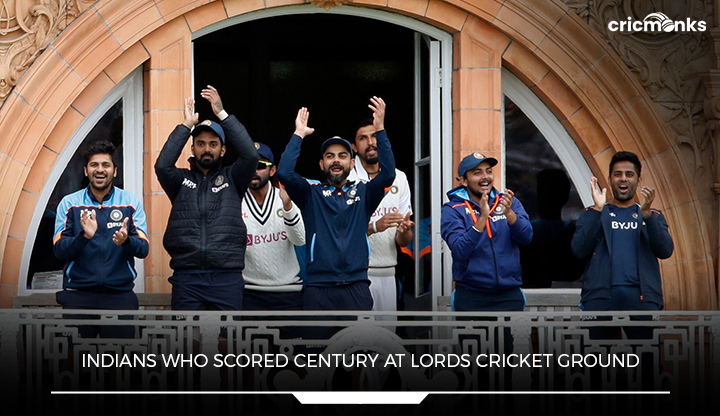 The Lords Cricket Ground London owned by Marylebone Cricket Club is regarded as one of the most iconic cricket stadiums around the world. It is regarded as the Mecca of Cricket and holds a significant place in the rich history of the cricket game. Every batsman really would like to remember the spectacular sight of the Long Room and the iconic Lord's Honors Board. Within the change room, the Lord's Honors Board honors all men who have struck a hundred, taken 5 wickets in a single innings, or taken 10 wickets in a game. A hundred in this renowned venue is a major deal, and not many Indian cricketers have accomplished this feat.
Here is a list of all the Indian batters who have achieved to register a century to their name on the Mecca of Cricket.
Vinoo Mankad:
Former Indian cricketer Vinoo Mankad was the first Indian player to get his name on the Lord's Honors board. Vinoo Mankad struck 184 in an eight-wicket defeat to England in 1952, becoming the first Indian player to reach a Test hundred at Lord's. He played a brilliant knock of 184 runs against England in 1952, to help India to a 378-run total in the third innings. Though the match resulted in a draw, his knock is still regarded as one of the special tons in Indian cricket history. Mankad is probably best known for his bowling ability, but he also batted well and often opened for his team throughout his Test career.
Dilip Vengsarkar:
Dilip Vengsarkar was a key member of the Indian squad in the late 1970s and early 1980s. Throughout his Test career, he scored 17 hundreds, three of which were at Lord's Cricket Ground. His first century happened to come against England in 1979. Exactly three years later, in 1982, he earned his second hundred. His third hundred was particularly notable. During India's spectacular 1986 trip, Vengsarkar produced an undefeated century at Lord's, his third hundred at the venue.
Gundappa Vishwanath:
Gundappa Viswanath was considered one of India's best and most skilled Test batters. Viswanath was indeed a slick, wristy right-hander that tortured several elite tier bowling attacks all around the world while scoring some great runs for India. Gundappa Vishwanath, similarly to Vengsarkar, achieved his first century at Lord's in the same game. Gundappa Vishwanath scored 113 runs from 337 balls in the game where India toured England in 1979.
Ravi Shastri:
The former Indian head coach and commentator Ravi Shastri was one of the strong all round cricketers of his era. He had registered a century to his name at Lords during the 1990 Indian tour of England. He scored his century in the second innings at the last Test match of the series at the famous cricket ground. Both Shastri and Azharuddin scored hundreds to assist India post 454 in the second innings of the Test match. Sadly, nobody's efforts were sufficient to help India achieve victory.
Mohammad Azharuddin:
Azharuddin made his Test debut with several spectacular sixes in his first innings. He was the former Indian skipper who began his career with an astonishing hundred at Eden Gardens in 1984. From there he transformed himself into a batting sensation for the Indian side for many years. He was well known for his elegance and flamboyant nature of batting. During India's 1990 tour of England, Azharuddin achieved his first century at Lord's Cricket Ground. He hit 22 fours and scored 121 runs off 111 balls.
Sourav Ganguly:
Sourav Gunguly who is the current BCCI President and former Indian captain was well known for his aggression on the field and attacking batsmanship. He has produced some of the most memorable knocks in the history of Indian cricket. In his debut Tour match versus England in 1996, he produced a magnificent century at Lord's Stadium. In the game, he scored 131 runs.
Ajit Agarkar:
Ajit Agarkar was one of the supreme white ball members of the famous Indian side for many years. He was well known for his all round abilities, apart from his bowling for India. He had impressed everyone with his attacking shots and is on the elite list of Indians who scored centuries at Lord's cricket ground. He made 109 runs off 190 balls, but his century was insufficient to help his side prevail in the game.
Rahul Dravid:
Rahul Dravid, known as 'The Wall' of the Indian cricket team, had some remarkable innings throughout his illustrious career. He is one of the most impressive batters with an enormous amount of patience and dedication. One of those remarkable shows was at the renowned Lord's Stadium. Rahul scored 103 runs off 220 balls during India's 2011 tour of England.
Ajinkya Rahane:
Ajinkya Rahane was one of the fine Indian batters who was class apart with his batting style. He was instrumental in India's 2014 England tour. During the first innings, wickets fell at frequent periods at the opposing end, yet Rahane stayed unaffected and hit a magnificent century. He scored 103 runs on 154 balls, to help India post a team total of 295 runs. His knock included 15 fours and one six.
KL Rahul:
KL Rahul is one of the finest all format batters at present in India. He is well known for his shot making ability all around the ground. He was a part of the Indian side that toured England and wowed everyone on the second day of the second Test match against England at the legendary Lord's Stadium. He was the tenth Indian cricketer to be inducted into the Lord's Honors Board.
| | | |
| --- | --- | --- |
| SL no | Player | Runs |
| 1 | Vinoo Mankad | 184 |
| 2 | Gundappa Vishwanath | 113 |
| 3 | Dilip Vengsarkar | 103 |
| 4 | Dilip Vengsarkar | 157 |
| 5 | Dilip Vengsarkar | 126* |
| 6 | Ravi Shastri | 100 |
| 7 | Mohammad Azharuddin | 121 |
| 8 | Sourav Ganguly | 131 |
| 9 | Ajit Agarkar | 109* |
| 10 | Rahul Dravid | 103* |
| 11 | Ajinkya Rahane | 103 |
| 12 | KL Rahul | 129 |