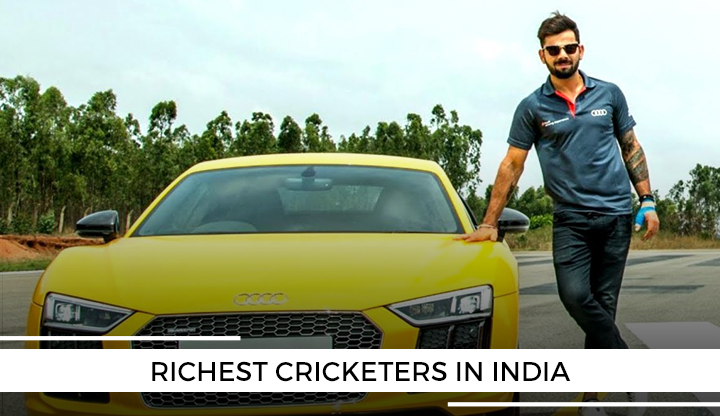 It goes without saying that the Indian cricket team is one of the most prestigious cricket teams in the world. Given the spectacular and extraordinary performances delivered by Indian players, they are offered the best salaries when one compares the pay scale with the players of other countries.
Some Indian cricketers have huge assets, owing to their consistency in displaying their performances on the field. Also, the players receive endorsements for leading brands, skyrocketing their total net worth. So, here's a look at the top 10 richest cricketers in India.
Sachin Tendulkar – $121 million
The cricketer needs no introduction. A complete batsman and a prolific run-getter, Sachin is undeniably the most celebrated icon that the game of cricket has ever known. Having made his debut in 1989, the Mumbai batsman took down the curtain on his cricketing career in 2013, after a 24-year long run.
Initially, Sachin's only source of income was match fees. But he later started having sponsorship deals with brands Star Sports, Airtel, Castrol India, TVS, and Britannia. Today, Sachin Tendulkar is not only the richest cricketer in India but also around the world. His net worth stands at a whopping $121 million.
Virat Kohli – $121 million
With the ability to deliver stellar performances across all three formats, Virat Kohli is one of the most influential cricketers that the Indian cricket team has ever seen. As a leader, he ensures that he does everything to inspire his teammates to deliver extraordinary performances in the game. Under Kohli's captaincy, the performance of Indian cricket has improved dramatically in the past few years.
A style icon, Virat is also one of the top-tier cricketers in BCCI's contract list. As per the BCCI's central contract, he receives about 1.25 crore annually, as his retainer fee. Besides, he has endorsement deals with several brands such as Audi, Boost, Colgate, Gillette, MRF, Puma, Uber, and Vicks. Virat's net worth is estimated to be around $120 million.
MS Dhoni – $ 111 million
Arguably the greatest captain that India has ever seen, MS Dhoni has a lot of fans and admirers. Under the leadership of MS Dhoni, team India has tasted unparalleled success by bringing in all three titles – the ICC ODI World Cup, ICC T20 World Cup, and the Champions Trophy. Besides, Dhoni has contributed immensely to the development of cricket in India. In fact, Dhoni is widely regarded to be the player who has changed the face of Indian cricket in an astonishing manner.
Behind the calm and easy-going attitude of Dhoni, there is an excellent cricketer who has set some pretty records over the years. Dhoni lands among the highest-paid sportspersons in the world, with a new worth of around $111 million. He owns a racing team in the Supersport World Championship (Mahi Racing Team India) and a hockey club in his hometown (Ranchi Rays). Also, Dhoni owns several other businesses, including Hotel Mahi Residency, Sports Fit World Pvt Ltd, and footwear collections Seven.
Sourav Ganguly – $57 million
Widely referred to as "Dada", the former captain of India needs no introduction. Famous for his spell-bounding knock at the Lord's Stadium, Sourav Ganguly has been the chairman of the Indian Cricket Association of Bengal before taking on the role of the 39th BCCI president in 2019.
Ganguly's net worth is $57 million, which includes his IPL salary and several other endorsements. He comes from a wealthy family and owns a variety of businesses, which eventually contributes to his net worth. Also, he is the brand ambassador of several reputable brands such as Puma, Essilor Lens, Tata Tetley and is also associated with numerous housing projects.
Virender Sehwag – $41 million
Famous for his aggressive field nature, Virender Sehwag is one of the best openers that the Indian cricket team has ever had. He is renowned for his two test centuries in Tests, which he scored against Pakistan and South Africa.
Sehwag is a leading Indian broadcaster for commentary and analysis, and he has also served as the Kings XI Punjab team coach for five years. He is associated with top media companies known for featuring sports news. Sehwag has a website on his name where one can find the name of his sponsors, including Adidas, JK Cements, Boost, Hero, Zandu Balm, Royal Challenge, Rasan. As of now, Sehwag's net worth is estimated to be around $41 million.
Yuvraj Singh – $35.5 million
Known for his famous six 6's for a row in a single over, Yuvraj Singh takes the sixth spot on our list. After his success in ICC 2011 World Cup, he was diagnosed with cancer, after which many believed that it would be the end of his career. However, he fought the disease and once again returned to the field.
Yuvraj's primary source of income is his past brand endorsements such as Pepsi, Royal Mega Stag, Laureus & Benz, Reebok, Birla Sun Life, Whirlpool, Cadbury, Revital, and Puma. Also, he owns a clothing line called YWC and has added to his net worth with the release of his autobiography. As per sources, Yuvraj Singh's net worth is $35.5 million.
Suresh Raina – $25 million
Having begun his cricketing career at the mere age of 19, Suresh Raina has become a household name during cricket tournaments and the cash-rich league IPL. Due to his ability to get runs quickly and hit in the gaps elegantly, Suresh Raina has gone on to become a dependable finisher for the national side. Also, having associated with CSK for most of his IPL career, Raina has been a run-machine for the Chennai-based franchise.
To date, Raina has made a lump sum of $12 million from the IPL, and his net worth is estimated to be around $25 million. Besides, he is the proud owner of several luxury cars, including Mercedes, BMW, Porsche, and Range Rover.
Rahul Dravid – $24 million
Hailing from Karnataka, Rahul Dravid is not only an accomplished cricketer but also one of the most respected athletes in the world. What sets Dravid apart from other cricketers is his ability to bat for exceedingly long hours to tire the opposing bowlers. He has a great history of bringing India's budding talent into the limelight and is currently the head coach of India's U-19 cricket team.
Dravid's net worth amount to $24 million. Over the years, numerous brands such as Pepsi, Reebok, Kissan, Max Life, Samsung, Sansui, Gillette, and Bank of Baroda have sponsored the veteran. Also, he was the brand ambassador of the Indian Super League Club Bengaluru FC in 2017.
Rohit Sharma – $18.3 million
Rohit Sharma is currently one of the most valuable players in the Indian squad. Since the time he started batting at the top-order, Sharma has amassed runs at an astonishing rate. Having led Mumbai Indians to five IPL titles, he is also the most successful captain in IPL history. Besides, the Mumbaikar has several records to his name, including the highest run-getter and the most capped player for India.
Rohit is currently in the A+ grade list of players in BCCI's contract list and has a net worth of astonishing $18.3 million. He has many endorsements from top brands such as Lays, Nissan, CEAT, Aristocrat, Adidas, Relispray, Nasivion Nasal Spray, Oppo, and Highlanders. Also, he has been a constant feature in IPL 2021 commercials.
Gautham Gambhir – $17 million
Gautam Gambhir is renowned for his stellar performance in ICC 2011 World Cup and can be termed as one of the greatest players in India's cricketing history. A member of the Parliament, Gautam Gambhir has assets worth $17 million which is the richest out of the 349 candidates in contention.
His primary source of income is from the Popular brand's endorsements such as Red Bull, Beverly Hills Polo Club, Hero MotoCorp, and Reebok. Also, has been appointed as the brand ambassador of CricPlay, a fantasy gaming platform. Gambhir was the brand ambassador of Pinnacle Specialty Vehicles (PSV) in January 2018.