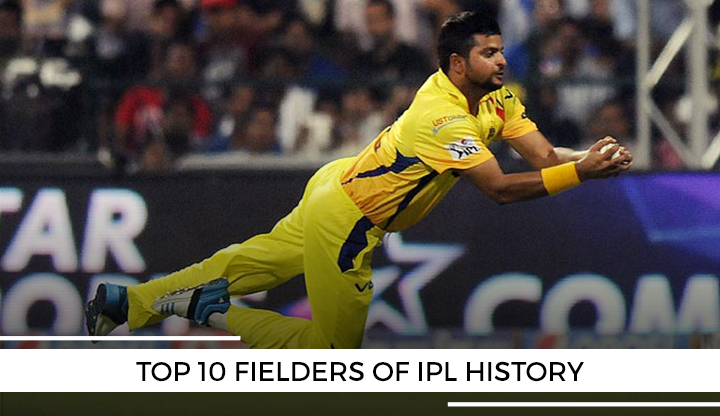 It goes without saying that fielding is a crucial aspect of cricket. Gone are the days when fielding was highly underrated in a player's proposition. With a major emphasis being placed on fitness and athleticism in modern-day cricket, fielding is now undergoing a tremendous evolution.
Over the years, the Indian Premier League has seen some amazing fielders, including the likes of Kieron Pollard, David Warner, and Virat Kohli. In this article, we take a look at top fielders in the history of the IPL.
Ab de Villiers
Often being termed as 'Superman' by RCB skipper Virat Kohli and fans, Ab de Villiers is a great batsman and a fielder. Having garnered the ICC ODI Player of the Year title three times during his 15 years of international career, there's hardly anything that ABD can't perform on the field.
Although de Villiers has taken the curtain down on his international career, he can still be seen in the Indian Premier League (IPL). To date, AB has represented Delhi Daredevils and Royal Challengers Bangalore in the IPL, where he has stunned the crowd with some of the most epic catches in the league's history.
Kieron Pollard
An aggressive all-rounder from West Indies, Kieron Pollard has earned himself the name for being one of the best T20 batsmen in the world. His impressive performance in the 2009 Champions Trophy League and the Big Bash League bagged him a contract from the most successful IPL team, Mumbai Indians.
Although Pollard didn't have a blistering start, he later found form. Over the years, Pollard has been one of the most reliable batsmen and fielders for Mumbai Indians. There have been several instances when he could be found grabbing some unbelievable takes, whether that being at mid-off or standing as a point fielder. In fact, if Mumbai Indians are termed as one of the best defending teams, then the acts of delivery by star players like Malinga or Bumrah and caught by Pollard is one of the propelling reasons.
Suresh Raina
Suresh Raina is one of the most iconic players that the Indian Premier League (IPL) has ever seen. Being the 5000 run bank in the IPL, Raina has scored over 300 runs in every IPL tournament till date. Along with being excellent with the bat, Suresh Raina's fielding is a multitude of everything.
Over the years, Raina's strong reflexes have not only saved some of the extraordinary strokes played by a batsman inside the 30-yard circle but also some exquisite strokes being taken at the slips. In his elongated career, Raina has taken more than a hundred catches, making him one of the key prospects for CSK in terms of ball-catching activity.
Ravindra Jadeja
Known for his quick and sharp fielding tactics, Ravindra Jadeja is one of the inspiring fielders not just in the cash-rich league but also in international cricket. His ability to efficiently cover the ground and shatter the stumps from any direction is the reason why Raina can be seen guarding the mid-wicket region.
Jadeja's ability to field anywhere in the park makes him a top asset in CSK's fielding lineup. Ravindra Jadeja, in his inspirational IPL career spanning 13 years, has taken a total of 68 matches. In the upcoming IPL edition, we can expect to see Jadeja accounting for some crucial scalps and saves for his side.
Faf du Plessis
Standing at the slips, Faf du Plessis is one of the fielders the IPL has ever seen. Faf has been CSK's most reliable man onto the field and it's no surprise that he was seen to be the best fielders thought out the 13th edition of the IPL.
Faf's versatility allows him to stand anywhere inside the park, from being a slip fielder to protecting the long boundary. Another area where the man can viably be a safe pair of hands is when a power-hitter is smashing the ball. Faf du Plessis,
Hardik Pandya
Hailing from a small town in Gujarat, Hardik Pandya is known for exhibiting the charisma and swagger of a modern-day cricketer. Since his IPL debut in 2015, Hardik Pandya has remained with Mumbai Indians. Pandya's hit every-ball style and medium-fast bowling makes him a key player for his side.
Just like Kieron Pollard, Pandya is one of the key prospects in the Mumbai Indians' all-rounders unit. Whether be it fielding at the business ends or about standing at a position where one has to effectively cover a lot of area on the ground, Hardik Pandya's field is quite effective. Over the years, Pandya has elegantly pulled off some laborious saves and taken a total of 49 catches for his side.
Dwayne Bravo
Although being in his late 30s, Dwayne Bravo is still one of the best fielders in the CSK squad. Along with his exuberant fielding, Bravo's dance moves will once again be a vital cog for CSK in the upcoming edition.
Generally being placed within the mid-wicket range, Dwayne Bravo has accounted for some breathtaking catches and bowled dismissals of his own bowling. Apart from having exceptional bowling skills, Bravo is also known for his robust diving skills that have saved runs for his side. In his eventful IPL career, Bravo has accounted for a total of 75 catches.
David Miller
Despite experiencing some failures in recent years, David Miller has lit the IPL up with his batting. However, the phrase "Killer Miller" would be the term to associate his fielding with. Being a part of Kings XI Punjab and Rajasthan Royals, Miller has accounted for some amazing saves over the years.
His ability to take diving catches has always been a key feature of his fielding. Additionally, he can elegantly save various crucial boundaries, all thanks to his exceptional sprinting ability. Overall, Miller has accounted for a total of 49 catches in his IPL career.
Virat Kohli
The next top fielder on our list is Virat Kohli. Kohli, along with his deputy De Villiers, have accounted for some thrilling catches. Being a skipper, Kohli can mostly be found at covers or at the mid-offs. When it comes to being a boundary rider, RCB fans have always seen the duo of Kohli and ABD protecting the long-on and long-off boundaries.
For RCB fans, bowled Chahal and caught Kohli has always been an event of joy in the scorecard. All in all, Kohli has taken a total of 77 catches for his team.
David Warner
David Warner is a part of the rare group of electrifying cricketers that the sport has ever seen. For Warner, fielding has always been a vigorous activity and that's why we can see his name making rounds on the internet.
As a fielder, Warner can field in the slips and guard the boundary defences for his side. Also, he comes with the ability to flawlessly field on any side of the park. All in all, Warner is a lively package who can save some strenuous runs on the field.