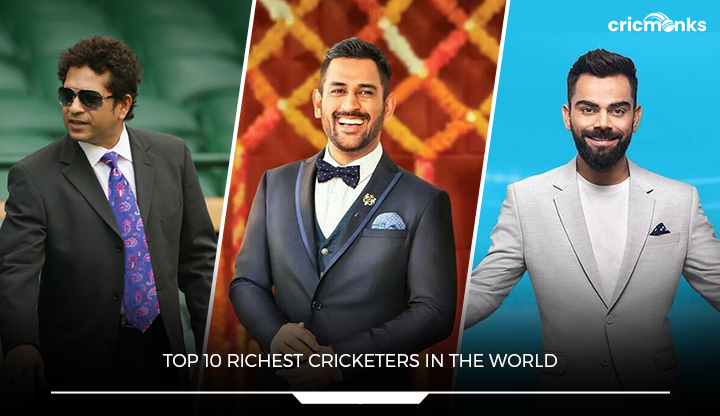 Cricket is the most popular sport in many nations, including India, and is the second most popular sport after football worldwide. The Board of Control for Cricket in India is the richest cricket board in the world. Almost all the cricketing nations are well equipped with a considerable amount of income for their players, just like football and golf players. Even though there are many nations that play cricket which do not have the bank to pay enough for their players, there are many franchise cricket leagues all around the world like IPL, BBL and PSL that help the players with gaining a lot of money and fame. It is a great possibility of certain income, along with a matter of pride, for many associate players to take part in such events.
It is a proven fact that the Board of Control for Cricket in India invests the largest amount of money in cricket in comparison with other cricket boards worldwide. The initial efforts to commercialize sports were rarely embraced, but a significant shift occurred in the late 1980s and early 1990s. With India becoming more global than ever before, a plethora of promotional components began to be linked to the sport, and these have become an intrinsic component of that as well. Even though the cricket match has continued to be rather limited in terms of its appeal, several of the cricketers are among the highest-paid sportsmen worldwide.
With a large portion of the heavily occupied Asian region enthusiastic about the sport, economic expansion was obviously a possibility, but it took some time to materialize. The rise of T20 cricket, particularly the Indian Premier League (IPL), has played a significant role in broadening the tournament's financial possibilities. This event has generated enormous cash from coverage, sponsorship, and ticket prices, and experts predict that it will only continue to grow in the following years. This, in a way, results in cricketers' having more possibilities to outgrow themselves in their net worth. It is certain that they would occupy themselves in the top of the highest paid sports persons worldwide.
List of Top 10 Richest Cricketers in the World
| | |
| --- | --- |
| Cricket Player | Net Worth |
| Sachin Tendulkar | $170 Million |
| MS Dhoni | $113 Million |
| Virat Kohli | $112 Million |
| Ricky Ponting | $70 Million |
| Brian Lara | $60 Million |
| Shane Warne | $50 Million |
| Jacques Kallis | $70 Million |
| Virender Sehwag | $40 Million |
| Yuvraj Singh | $35 Million |
| Shane Watson | $30 Million |
Sachin Tendulkar net worth – $170 million
Sachin Tendulkar needs no introduction when we talk about cricket. He is renowned as the God of Cricket worldwide, and he had a huge impact on the popularization of the game across more nations. Very few people know that Sachin, apart from being the greatest player ever, is also the richest cricketer in the world. Sachin Tendulkar carries a net worth of Rs. 1,296 crore ($170 million). The 'little master' retired from world cricket in 2013, yet he continues to receive a significant amount of income through several commercial deals.
Tendulkar became the first player to sign an INR 100 crore agreement after being named MRF's brand ambassador. Aside from MRF, the legendary Indian batsman was indeed the face of other brands, including BMW, Adidas, Pepsi Co, Castrol, Paytm, and others. He was perhaps the most valuable player of the 1990s, and as a result, he received several commercial sponsorships. He also has shares in the Kerala Blasters football team, which is a part of the Indian Super League.
MS Dhoni Net Worth – $111 million
MS Dhoni is a name foreign to no one. He has created a wave amongst the youngsters in India ever since his introduction into the world of cricket. He has got a huge fan base among most international cricketers in the world. He has captained India for a fair amount of time and has won all the ICC trophies to his name, and he is the only Indian captain to achieve this feat also. He has won the T20 World Cup, the ICC Champions Trophy and the ICC World Cup.
MS Dhoni was a real heir to Sachin Tendulkar's commercial reputation, emerging as the biggest face for commercial sponsorships just a couple years into his international cricket career. MS Dhoni has a lengthy association with Reebok, one of several notable firms he has promoted. He represents Orient, Indigo Paints, RedBus, Bharat Matrimony, GoDaddy, SRMB Steel, Oreo, Dream11, Gulf Oil India, TVS Motors, Lays, Colgate, and a few more brands. He owns the ISL team named Chennaiyin FC and the "Se7en" fashion line. MS Dhoni's net worth is estimated to be $113 million (INR 860 crore).
Virat Kohli Net Worth – $92 million
Virat Kohli is perhaps the most talented cricketer to have ever played the game. The hard work and dedication put into work by the former Indian captain shows the value he brings to the Indian team and to the game as a whole. He has piled up runs across formats and outgrown himself to become one of the top celebrities in the whole world. He has helped cricket grow outside the elite nations. Former India captain Virat Kohli is perhaps the most recognized cricket player in the whole world at present, having acquired superstardom in a relatively short period of time. He has a net worth of Rs. 701 crore ($92 million).
Virat Kohli, in addition to being one of the best cricketers in the game, has established a powerful corporate identity for himself through the ages. He is a brand ambassador for a number of well-known companies, including Audi, Google, Manyavar, Hero Moto Corp, Colgate, Puma, and Myntra, in addition to his own fashion labels, Wrogn and one8. It's no wonder that the ex Indian captain is prominent on this chart of the world's richest cricketers, and he can only get further from here. Virat Kohli is the only cricketer in the world to feature on Forbes' list of the "highest-paid athletes in the world."
Ricky Ponting Net Worth – $70 million
Ricky Ponting is the face of Australian cricket and is one of the most successful cricket players to captain a national side. The Australian side under his leadership was simply unplayable across formats for many years. He along with Clive Lloyd are the only captains in the world with two World Cups under their belt. Ponting is one of the formidable batters of his era and his pull shot alone has a seperate fanbase. While the top three of the richest cricketers are from India, Ponting is the first foreign player to make it to the list at the fourth place.
Legendary Australian captain Ricky Ponting was one of the best cricketers in the game throughout his prime and accumulated a fortune in the meantime. His tremendous popularity in cricket won him endorsement contracts with worldwide brands such as Adidas, Rexona, Kookaburra Bats, and Pura Milk.He has a net worth of Rs 533 crore ($70 million), ranking him fourth among the top ten richest cricketers. This is unsurprising given his phenomenal achievement with the Australian cricket team and the reputation he has built in international cricket.
Brian Lara Net Worth – $60 million
Brian Charles Lara is the epitome of flamboyance in batting. He is worshiped worldwide as the biggest Caribbean superstar who holds the record for the highest ever individual score in Test Cricket. Brian Lara is one of the greatest stars in world cricket and remains to represent several products. He is the fifth wealthiest cricket player on the planet, with a net worth of Rs 457 crore. He has led the West Indies side for a long period of time and was regarded as one of the most stylish batters to have ever played the game.
Brian Lara played international cricket for 17 years and scored over 10,000 runs in both forms. After his retirement, he has worked as coach of several franchises as well as being a commentator and cricket analyst. Because of his fame, he was able to secure a sponsor arrangement with MRF tyres, as well as other brand sponsorships. Various well-known businesses have recruited him in order to improve marketing and brand recognition. Brian also receives money through publications, one of which included his signature and was sold for $200 apiece.
Shane Warne Net Worth – $50 million
Shane Warne's tragic death provided the world with a hindsight look at how huge a presence he was, and the Australian icon is one of the wealthiest cricketers on the planet. His net worth was $50 million (INR 381 crore), and he sponsored businesses such as Pepsi, McDonald's, and Victoria Bitter, among many others. After finishing his cricket career, he worked as a pundit for several broadcasters. He died while on holiday in Thailand at age of 52.
Jacques Kallis Net Worth – $48 million
Jacques Kallis is often regarded as the finest Proteas cricketer of all time, despite being one of the game's best all-rounders. With a net worth of $48 million, he is rated seventh among the top ten wealthiest cricketers in the world (Rs 365 crore). Kallis is the one and only cricketer in the world to have scored 10,000 runs and taken 250 wickets in Tests and ODIs, and he was the highest-paid South African cricketer until AB de Villiers joined the race.
Virender Sehwag Net Worth – $40 million
Virender Sehwag was known for his powerful batting approach and daring cricket. Hardly some of the cricketers in world cricket can surpass Virender Sehwag's explosiveness. Sehwag was the first Indian cricketer to register a triple hundred in a Test match, and he is the only batter in Indian history to have scored a triple century in Tests and a double century in ODIs. Virender Sehwag was one of the most well-known personalities in the nation and hence ranks high up on the list of the world's wealthiest cricketers. His net worth is $40 million (Rs 304 crore).
Yuvraj Singh Net Worth – $35 million
Yuvraj Singh, the ICC World Cup 2011 Player of the Tournament, is one of the best all-rounders in ODI cricket and has become a national legend after overcoming several difficulties to reach the top. He was an all-rounder and the Vice-Captain of the Indian One-Day International team. Yuvraj Singh has a combined wealth of $35 million (Rs 266 crore) and has worked with brands such as Pepsi, Reebok, Cadbury, Royal Mega Stag, Benz, and Laureus. He is also regarded as one of the top ODI players in India after Sachin Tendulkar and Virat Kohli.
Shane Watson Net Worth – $30 million
Former Australian all-rounder Shane Watson rose to prominence after playing a key part in Australia's World Cup victory in 2007 and the Rajasthan Royals' IPL victory in 2008. He appeared in 307 international matches for Australia, scoring 10950 runs and taking 281 wickets. The right-handed batter immediately established himself as one of the top cricketers for commercial sponsorships. Shane Watson has a net worth of $30 million and is well-known in the IPL, having won the title with both the Rajasthan Royals and the Chennai Super Kings. Among his brand sponsorships are Gunn & Moore, TAG Heuer, Asics, Golden Circle, and American Express.