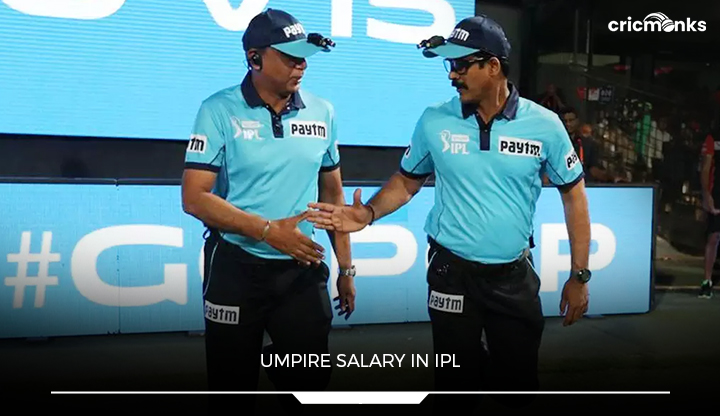 The job of an umpire is frequently overlooked. As a result, while considering becoming an umpire, it is common to overlook the fact that it is skilled hard work. The BCCI pays the umpires just as much as the cricketers in the IPL. The pay of umpires is divided into two sections: Umpires from the ICC Elite Panel earn INR 1,98,000 each match in the IPL, while training umpires get INR 59,000. There is also a predetermined sponsorship fee of INR 7,33,000 every season.
The total list of the Indian Umpires for IPL 2022:
Anil Chaudhary, C. Shamshuddin, Virender Sharma, K.N. Ananthapadmanabhan, Nitin Menon, S. Ravi, Vineet Kulkarni, Yashwant Barde, Ulhas Gandhe, Anil Dandekar, K Srinivasan, and Pashchim Pathak.
Foreign Umpires for IPL 2022:
Richard Illingworth (Eng), Paul Reiffel (Aus), and Christopher Gaffaney (NZ)
Umpires in IPL
Umpire
Span
Matches
S Ravi
2009-2021
131
(India)
AK Chaudhary
2012-2022
111
(India)
HDPK Dharmasena
2009-2018
94
(Sri Lanka)
C Shamsuddin
2012-2021
89
(India)
Nitin Menon
2016-2022
83
(India)
CB Gaffaney
2015-2022
69
(New Zealand)
M Erasmus
2009-2022
68
(South Africa)
CK Nandan
2013-2021
59
(India)
BNJ Oxenford
2012-2022
57
(Australia)
KN Ananthapadmanabhan
2016-2022
56
(India)
SJA Taufel
2009-2013
55
(Australia)
RJ Tucker
2011-2022
52
(Australia)
Asad Rauf
2008-2013
51
(Pakistan)
VA Kulkarni
2012-2020
51
(India)
VK Sharma
2016-2022
46
(India)
BR Doctrove
2008-2012
44
(West Indies)
RE Koertzen
2008-2011
42
(South Africa)
RK Illingworth
2014-2021
40
(England)
Aleem Dar
2008-2014
38
(Pakistan)
BF Bowden
2008-2014
38
(New Zealand)
NJ Llong
2013-2019
37
(England)
AY Dandekar
2016-2021
32
(India)
S Asnani
2009-2013
31
(India)
SK Tarapore
2009-2012
31
(India)
RB Tiffin
2008-2011
30
(Zimbabwe)
YC Barde
2017-2022
28
(India)
DJ Harper
2008-2010
28
(Australia)
PR Reiffel
2011-2021
28
(Australia)
AM Saheba
2008-2011
27
(India)
A Nand Kishore
2016-2019
25
(India)
K Hariharan
2008-2011
21
(India)
UV Gandhi
2019-2022
18
(India)
BG Jerling
2008-2010
18
(South Africa)
JD Cloete
2012-2015
17
(South Africa)
SS Hazare
2009-2014
17
(India)
PG Pathak
2014-2022
16
(India)
K Srinath
2013-2015
15
(India)
IL Howell
2008-2009
14
(South Africa)
SL Shastri
2008-2011
14
(India)
MR Benson
2008-2009
13
(England)
S Das
2012-2013
13
(India)
A Deshmukh
2017-2018
12
(India)
MA Gough
2021-2022
12
(England)
J Madanagopal
2021-2022
11
(India)
K Srinivasan
2015-2021
9
(India)
RM Deshpande
2014-2015
8
(India)
Tapan Sharma
2021-2022
8
(India)