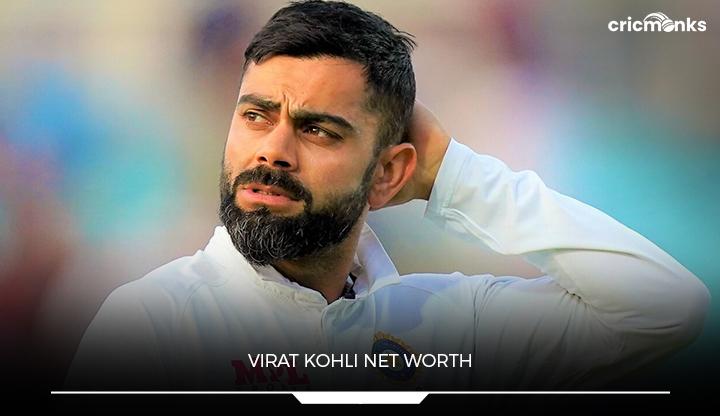 India has produced a whole list of great cricketers for as long as we can remember, but there's hardly been anyone who can match the intensity or the burning ambition of Virat Kohli. He has drawn inspiration from the greatest, Sachin Tendulkar, the God of cricket, and has always tried to replicate the same kind of technical prowess.
Apart from that, he has incorporated the standard of fitness that can rival the top athletes of the world, not just cricketers. It was him, who introduced endurance tests as a criterion for selection in the national team.
And, ultimately, he has reaped the fruits of his labor quite well. He became the most complete player in all three formats of the game, who can do the hard yards of Test cricket with glorious cover drives, patient accumulation, and all the heart-on-the-sleeves aggression and passion; but just in a flicker, can become the greatest showman of limited-overs cricket of the modern era. His test numbers and jaw-dropping ODI stats hardly seems humanly possible.
But he does it with all the class we can ask for, and all the bravado and leadership India needs. And you know it, whether he fails or succeeds, he'll live through every moment on that field, and he'll give his 200% every time. Each and every time.
His ambition seamlessly assimilated into his captaincy style too. He demanded more from his fast bowlers, more than any Indian captain has asked of their pacemen. He regularly chose 4 seamers in overseas Tests, dropped a batsman to make place for a bowler which would aid him pick up all 20 wickets.
With his unrelenting support and belief, India has created a pool of fast bowlers that every country is forced to respect and take notice of. Jasprit Bumrah, Mohammad Siraj, Mohammed Shami are supreme examples of what a fast bowler can do when he has the complete backing of the skipper.
It's the culmination of all these things that led India to achieve the no.1 Test ranking, and even back-to-back series wins in Australia. Before that, India had never won a series in the land down under. But it's the flourish and self-belief Kohli has instilled in every player of the Indian dressing room that has made it all become a reality.
Before leaving the Test captaincy, he became the most successful Test captain of India with 40 wins out of 68 Tests which became just another feather in his already crowded cap.
Kohli has scored Test hundreds against and in every Test-playing country except Bangladesh. His ODI record is even more unbelievable which is absolutely superhuman, best-in-class, top of the generation; especiallyin close run chases. His records for number of matches played to score 8000, 9000, 10000, and 11000 ODI runs is probably going to be safe for a long, long time.
Kohli was once backed to break Tendulkar's record of 49 ODI and 51 Test hundreds. But in these last 3 pandemic-stricken years, his form has been disappointing. But even after that, he still has a really good shot at the ODI hundreds record, as he just needs 6 more to equal Sachin, and 7 to become the only human to score a half-century of centuries in ODIs, and get that record to his name.
Virat Kohli is undoubtedly the most famous Indian cricketer, and arguably the most famous cricketer in the whole world. He has been box-office for our Men in Blue right from the start as a prodigy in 2008. Kohli's stellar performances have already cemented his place among the modern greats, and he can easily put his stake in the list of all-time greats as well.
Even the legend, Vivian Richards himself has been quoted saying that Kohli reminds him of his younger days. Now, there's no compliment bigger than that.
Not only as a player, Kohli has proved his mettle as a steely captain as well, and showed the whole nation that there's someone who'll never back down.
For all of his achievements in cricket, alongside his attractive and super-energetic personality, and his at-times maniacal obsession with fitness that has brought a silent revolution in the entire cricketing system and philosophy in India; he has become a brand himself.
With a huge fanbase in India and in many other parts of Asia, he has no shortage of admirers in pundits as well as the common public. And for his sheer capability of pulling people towards himself, he has been a trusted name for endorsement deals.
And all those hefty contracts have made his net worth even more astronomical. He is in fact the richest sportsperson in India at this point of time.
After winning the under-19 world cup as the captain of that team, he made his mark in the Indian cricket scene with ferocious talent, and the cover drive you'd bet your eyeballs on. He was thought of as a mainstay in the batting order, as the old guard gradually retired.
The legendary batting line-up of India at that time read something like this: Sehwag, Gambhir, Dravid, Tendulkar, Laxman, Ganguly. It was frightening for any opposition, but Kohli and his chaps made sure that it stayed like that, and never let us feel that the quality had worn off.
He has realized his destiny, something many had predicted. But he has become much more than just a player. He's someone that the opposition truly despises but also respects too much.
He's always in your face, living every ball, competing as hard as he can at every moment; and he has acquired the willpower and physical strength to do all of these.
He has stood up for the best of the game and has proved himself to be an appropriate spokesperson for cricket. Even when many argue about the validity or appeal of Test cricket, Kohli has always stated clearly that he counts Tests as the pinnacle of this sport, and we need to keep it alive to have the best of cricket.
Many fans call him King Kohli, and he proves again and again that he is indeed one whenever he steps onto the cricket field.
| | |
| --- | --- |
| Name | Virat Kohli |
| Birthday | 5th November 1988 |
| Birthplace | New Delhi |
| Nickname | Chikoo |
| Ethnicity | Punjabi |
| Education | Vishal Bharti Public School, Delhi Saviour Convent Senior Secondary School |
| Father | Prem Kohli (late) |
| Mother | Saroj Kohli |
| Siblings | Bhawna Kohli, Vikas Kohli |
| Domestic Teams | Delhi (2006-Present), Royal Challengers Bangalore (2008-Present) |
| Jersey Number | 18 |
| Test Debut | 20th June 2011 (West Indies) |
| Test Career | 8074 runs in 102 matches, Average: 49.53 |
| ODI Debut | 18th August 2008 (Sri Lanka) |
| ODI Career | 12344 runs in 262 matches, Average: 57.68 |
| T20I Debut | 12th June 2010 (Zimbabwe) |
| T20I Career | 3308 runs in 99 matches, Average: 50.12 |
| ICC Rankings | 12th in Tests, 5th in ODIs, 32nd in T20Is |
| Height | 1.75 m. (5 feet 9 inches) |
| Weight | 69 kg |
| Net Worth in 2022 | Around 127 million USD |
| Net Worth in Indian currency | 950 crores |
| Monthly income and salary | About 20 crores |
| Yearly income | 262 crores |
| Last Updated | August 2022 |
About Virat Kohli
Virat Kohli was born on 5 November 1988 in Delhi. His father Prem Kohli was a criminal lawyer, while his mother Saroj Kohli is a housewife. He spent his childhood in the Uttam Nagar area of Delhi. He attended Vishal Bharti Public School and then joined Saviour Convent.
On December 18, 2006, his father succumbed to a heart attack after being bed-ridden for one month. This incident in a way has influenced his character greatly but in all the right ways.
Kohli once said in an NDTV interview, "I still remember the night my father passed away as it was the hardest time in my life. But the call to play the morning after my father's death came instinctively to me. I called my coach in the morning. I said I wanted to play because for me not completing a cricket game is a sin. That was a moment that changed me as a person. The importance this sport holds in my life is very, very high".
In 1998, when West Delhi Cricket Academy was founded in 1998, Kohli was there in its first batch of students, and there he met his first coach and lifelong mentor Rajkumar Sharma. Kohli's state debut came in Polly Umrigar Trophy in 2002 as a player of Delhi under-15 team. Then in 2003-04, he finished with the most runs in the Vijay Merchant Trophy playing in the Delhi under-17 team.
Kohli got his first-class debut in Ranji Trophy playing for Delhi against Tamilnadu when he was just 18 years old. Then in 2006, he toured England with the under-19 Indian team, and we won both the ODI and the Test series. He played his first T20 match next year in an Inter-state T20 Championship, in which he scored the most runs again: 179.
Then came the turning point in Kohli's career. It was 2008, and everything would become different after this year for Kohli. It all started when India won the Under-19 World Cup under his captaincy. That same year, he got a youth contract of 30000 USD to play for Royal Challengers Bangalore in the IPL. And, to top it off, he also made his International debut this very year.
After that, he only prospered in cricket, and the legend grew more and more. But then, his personal life became food for national media as well. He got in a relationship with a successful Bollywood actress, Anushka Sharma.
They broke it off in 2016, but not for much. They quickly resolved all the issues, and got together again. And thank God, they did. Otherwise, we would've missed a really great and exemplary celebrity couple who get in the limelight for all the good reasons.
They first met each other while shooting a commercial in 2013. They started to visit each other's workplaces. Kohli was seen on Anushka's sets, and Anushka could be spotted regularly cheering for him in the IPL. All the dust settled when Kohli confirmed their relationship, blowing a kiss with his bat during one of his matches which Anushka was attending.
They got married on 11th December 2017 in a village named Borgo Finocchieto in Tuscany, Italy. The marriage of Virushka (a nickname for them as a couple) was an extremely private affair and the media had no entrance. According to some reports though, everyone present in the wedding, even the hotel staff had to sign NDAs (Non-Disclosure Agreements).
Kohli has never shied away from praising his wife and her impact on his life. He has credited Anushka for the calmness and enhanced maturity in behaviour. They are definitely one of the most followed and adored couples in India. They are what a Power Couple should be like.
With that much following, it's almost guaranteed that businesses would like to have them as their ambassadors. And so it has been. Brands like Shyam Steel TMT, Manyavar, and Google Duo have even created entire marketing campaigns based on their sizzling chemistry.
On 11th January 2021, the couple was blessed with a baby girl. They named her 'Vamika' which is another name for Goddess Durga.
| | |
| --- | --- |
| Age | 33+ |
| Source of Wealth | Cricket, Endorsements, Twitter posts, Business ventures |
| IPL Salary | 15 crores (2022) |
| BCCI Salary | About 7 crores |
| Endorsements | Hero Motocorp, MPL, Myntra, Digit, Shyam Steel and 25+ others |
| Marital Status | Married (2017) |
| Children | Vamika Kohli |
Virat Kohli Salary
Kohli's net worth has risen in accordance to his might in the field, and his reputation off it. His net worth has only been going upwards since 2018.
In 2018, his net worth was estimated to be around 65 million USD. In 2019, it grew to 82 million. In 2020, it swelled up to 95 million. Then in 2021, it stood at 110 million which has reached 127 million in 2022. Kohli's net worth has almost doubled from between 2018 and 2022 which further proves how incredible his talent and charisma really is.
Kohli has left an indelible mark on India's cricket lores, and has contributed largely in the game of cricket. He has been a role model for everyone in this sport, especially for youngsters.
His income is manifold, with endorsements and investments, and with a salary that comes predominantly from playing for India and Royal Challengers Bangalore in IPL.
BCCI Salary
BCCI has a payment structure that rewards the best performers the most. They have various grades for giving out contracts. The best grade is the A+, and naturally, Kohli sits in this category. The A+ contract provides him with a salary of almost 7 crores annually. Only three players in India are offered this contract. Other than Kohli, only Jaspreet Bumrah and Rohit Sharma fall under this grade.
Other than this retainership fee, Kohli as a player representing India in International cricket gets match fees that BCCI provides to every player in the team. Currently, the match fees are: 15 lakhs for every Test, 6 lakhs for an ODI, and 3 lakhs for a T20I.
| | |
| --- | --- |
| Contract Fees | 7 crores |
| Test Match Fees | 15 lakhs/per match |
| ODI Match Fees | 6 lakhs/per match |
| T20I Match Fees | 3 lakhs/per match |
IPL Salary
Kohli's IPL salary is pretty substantial too in making his net worth outrageous. Kohli is the highest-paid player in the IPL throughout its long history.
And he's achieved that status without ever going under the hammer. Kohli has never been part of the auction. In 2008's inaugural IPL, RCB bought him straight out of the under-19 players' draft for just 12 lakhs. He had just won the under-19 world cup but Delhi surprisingly went for Pradeep Sangwan. After that, RCB hasn't let him go even once to the auction, through acquiring his services every time by retaining him.
He played the first ever match of IPL against Kolkata Knight Riders. A match that's much more famous for Brendon McCullum's scintillating knock of 158 which rolled the ball in some grand style for IPL.
He played for RCB for a salary of 12 lakhs for three years, which saw a major bump in 2011, and reached 8.2 crores. In that year, Kohli was the only player RCB retained before the auction. He became the captain of the Bangalore franchise in 2013 as well.
Then, the next auction came in 2015. But this time too, RCB had their paycheck ready for Kohli. They retained him for 12.5 crores per season. In the mega auction of 2018, RCB again did the same sensible thing and retained him for 18 crores, and that has been the biggest price any franchise has paid to any player ever in IPL.
Kohli stepped down from the captaincy of Bangalore in 2021 to focus on his batting. And in the latest auction of 2022, Kohli again was the first retention of RCB. Though he's had to be satisfied with a marginal pay cut, he still has a contract of 15 crores.
| | | |
| --- | --- | --- |
| Year of IPL | Auction Price in INR | IPL Team |
| 2008 | 12 lakhs | Royal Challengers Bangalore |
| 2009 | 12 lakhs | Royal Challengers Bangalore |
| 2010 | 12 lakhs | Royal Challengers Bangalore |
| 2011 | 8.28 crores | Royal Challengers Bangalore |
| 2012 | 8.28 crores | Royal Challengers Bangalore |
| 2013 | 8.28 crores | Royal Challengers Bangalore |
| 2014 | 12.5 crores | Royal Challengers Bangalore |
| 2015 | 12.5 crores | Royal Challengers Bangalore |
| 2016 | 12.5 crores | Royal Challengers Bangalore |
| 2017 | 12.5 crores | Royal Challengers Bangalore |
| 2018 | 17 crores | Royal Challengers Bangalore |
| 2019 | 17 crores | Royal Challengers Bangalore |
| 2020 | 17 crores | Royal Challengers Bangalore |
| 2021 | 17 crores | Royal Challengers Bangalore |
| 2022 | 15 crores | Royal Challengers Bangalore |
Virat Kohli Endorsements and Earnings
Virat Kohli has been one of the most marketable and profitable superstars in India for quite a long time now, and naturally he generates huge amounts of interest from almost all the big brands operating in India.
That makes getting endorsements super easy for him. In 2021-22, according to Forbes, he's made around 237 million USD from endorsements and sponsors. According to some reports, he charges about 2 crores per day of a shoot, which is more than even someone like MS Dhoni, the World Cup winning captain, and a blue-eyed boy of the advertising industry.
Kohli has a 'MRF' sticker for his bats, and also does ads for 'MRF ZLX' tyres. Reportedly, he gets 12.5 crores every year for using that sticker. But MRF also made a three-year contract with Kohli in 2015, and then renewed it in 2017. They've spent 100 crores, according to various reports, for eight years of partnership with Kohli.
Kohli featured in Muthoot FinCorp's (under 'Muthoot Pappachan Group') 'mera gold loan, mera interest' marketing campaign that they launched in April 2022.
Kohli is the brand ambassador of 'UPI Chalega', which is aUPI-based payment app in which you can make financial transactions and fund transfers after linking your bank account.
Kohli is an ambassador and athlete investor in Hyperice, a global wellness brand which works with dynamic air compression, vibrations, thermal and contrast technology, contrast therapy etc. He joined the brand in September of 2021. He has joined quite a few elite athletes from around the world and various other popular sports such as Erling Haaland, Ja Morant, Rickie Fowler, Patrick Mahomes and Naomi Osaka in this venture.
Kohli has also starred in a couple of largely popular advertisements for Shyam Steel, a leading manufacturer of premium TMT bars. They have been involved in many high-profile infrastructure projects all over India. In 2018, Virat and his wife Anushka both appeared in their couple of ads. And from then on, Shyam Steel has featured them consistently in their promotional ads.
Kohli has been doing promotions for Boost, a popular health drink since 2012. He has appeared in many of their ads and marketing campaigns, reinforcing his passion for fitness even in those ads.
He has been involved with Royal Challenge since 2017. Some controversies erupted alleging that he was promoting their whiskey, but Kohli later clarified that he was only promoting their energy drink and not their alcohol.
Manyavar, an immensely popular men's ethnic clothing brand approached Virat in 2016, and he featured in all of their print and electronic marketing campaigns for the next 2 years. His first promotion was in a Diwali campaign named 'Aadha aadha', which showed how marriage is often about sharing anything and everything.
Blue Star, an internationally famous air-conditioning and commercial-grade refrigeration brand took him in as their brand ambassador in 2019, and their partnership is still going strong.
Kohli joined in as the brand ambassador of Great Learning, an edtech company providing professional education online, in 2020. He kicked off with their 'Power Ahead' marketing campaign.
Kohli joined Rage Coffee in 2022 not only as their brand ambassador, but as an investor too. It's an FMCG brand headquartered in New Delhi who make flavored instant coffee and other coffee products.
Apart from all these endorsements, Kohli has yet another source of income, which is his social media. He's the most popular person in Asia on account of his followers count, irrespective of country or profession.
He has more than 195 million followers on Instagram, making him the most popular cricketer in the platform, and the 4th best athlete in terms of followers only after Lionel Messi, Cristiano Ronaldo and Neymar Jr. And obviously, business took over his immensly popular social media.. According to Hopper HQ's curated list, Kohli earned 296000 USD or 2.2 crores in Indian currency for each sponsored post.
Along with that, he has over 46 million followers on the most happening social media of all, Twitter. His account is the second most followed Indian account only behind the PMO office and our Prime Minister Narendra Modi. His humongous social media presence greatly uplifts his enormous brand value.
Virat has collaborated with over 40 brands till date.
Here's a list of brands endorsed by Virat Kohli:
| | | |
| --- | --- | --- |
| Digit Insurance | Vivo | Vize |
| IQOO | Great Learning | Bluestar |
| Wellman | Himalaya | Myntra |
| Puma | MPL | Google Duo |
| Hero Motocorp | Volini | Wrogn |
| MuveAcoustics | Too Yumm | Tissot |
| Audi India | Manyavar | Royal Challenge |
| MRF | UBER | Remit 2 India |
| Valvoline | Philips | Colgate |
| Shyam Steel | Boost | Amaze |
| American Tourister | Vicks | Rage Coffee |
| Fire-Boltt | Hyperice | Herbalife |
| UPI Chalega | Pepsi | Munch |
| Fastrack | Cinthol | Adidas |
| Toyota | Clean & Clear Shampoo | Blue Tribe |
Virat Kohli Assets
Houses and Properties
King Kohli lives like a king too. He has quite a few properties to his name, but lives mostly in tw0 of them. One in Delhi and one in Mumbai.
Virat and Anushka live in a luxurious apartment named 'Omkar 1973' in the Worli area of Mumbai. They bought this property in 2016 for an estimated price of 34 crores. We have got glimpses of their sumptuous home through their social media. Their apartment is on the 35th floor of this skyscraper with a magnificent view of the Arabian Sea. It has 4 rooms and a private gym to keep the couple in the best shape possible.
Virat was born and brought up in Delhi. So, it's pretty natural that he'd want to have a house there. He has a grand property in DLF City (Phase 1), Gurgaon. He moved into this house in 2015 along with his entire family. Though, he later shifted to Mumbai to live with his wife Anushka Sharma. Virat's social media has lots of pictures of this mansion, which is his residence whenever he comes to his hometown.
He also owns another property in the Versova area of Mumbai which he had purchased in 2012 for about 9 crores. He isn't seen here often now as he has shifted with his wife to their Worli apartment. According to some reports, he also owns a farmhouse in Alibaug, Maharashtra, though there's not much detail known about it.
Before all of these outrageous properties, Kohli lived in an apparently posh area named Meera Bagh in Paschim Vihar area of Delhi with his family.
| | |
| --- | --- |
| Total known properties | 4 |
| Houses in Mumbai | 43 crores |
| Houses in Delhi | 80 crores |
| Property in Alibaug | Yet unknown |
Cars
If you're a Kohli fan, you must have come to know about his love for cars. He has purchased some of the most luxurious cars, but some of them were gifts to him by his sponsors.
He owns cars from brands like Audi, Lamborghini, Mercedes, BMW etc. But some other cars like Renault Duster, Audi R8, and Toyota Fortuner were gifted to him.
He has an Audi R8, the dream card of millions of car enthusiasts, and just one look at it, you'll know why. The audacious look and the unbelievable power under the hood make it a crowd pleaser. It's a 2-seater which can clock an insane speed of 320 km./hour. Kohli purchased this one in 2018.
Kohli also owns an Audi RS5 Coupe. Incidentally, he was the first one to buy this particular model in India. This model came into the market in 2018, and the richest cricketer in the world couldn't resist himself. He regularly poses with this car which is probably one of his most cherished vehicles.
He is also seen with a Bentley Continental GT. This car is registered in the name of his brother Vikas, and he is the second owner of this car. This one mostly remains in Delhi, and he rides it around whenever he visits Delhi. But this is not the only Bentley he owns, as he owns a Bentley Flying Spur as well. He bought this 5-seater in 2019. Paparazzi's got pictures of Virat and Anushka in this car while they were visiting a hospital.
He also owns a Range Rover Vogue from Land Rover that he purchased in 2018. It's one of the most luxurious and accomplished SUVs that can hit 100 from 0 in 8.5 seconds only. Another interesting tidbit about this car is that it's registered with his jersey number (CJ 1818). He is often seen in this car. Even Anushka has got this one for herself.
Here's a list of Virat Kohli's collection of cars along with their prices:
| | |
| --- | --- |
| Car | Price |
| Audi Q7 | 83 lakhs (approx.) |
| Audi RS5 Coupe | 1.1 crores (approx.) |
| BMW X6 | 1.2 crores (approx.) |
| Range Rover Vogue | 2.4 crores (approx.) |
| Audi R8 V10 LMX | 2.7 crores (approx.) |
| Bentley Flying Spur | 3.3 crores (approx) |
| Bentley Continental GT | 3.4 crores (approx) |
Investments
Kohli is not only one of the biggest magnets for the biggest companies trying to rope him in, but it seems that he's also a pretty sensible entrepreneur.
He owns One8, an athleisure brand that first burst into the scene with the target of producing top-quality sports apparel, footwear and sporting accessories that will be affordable to the masses of India. They even secured an awesome collaboration with global giant Puma. Puma has a whole dedicated section for One8. However, after some time, the company decided to diversify their catalogue. They have entered the perfume and deodorant market now as well. Then, they opened restaurants and clubs across India as a chain named One8 Commune. Mostly these are cafes or resto-bars.
In 2015, Virat Kohli invested 90 crores in Chisel Fitness which is a chain of gyms headquartered in Bengaluru.
He has also become a shareholder of the ISL franchise FC Goa partnering with Jaydev Mody and Akshay Tandon because of his sheer love for the game of Football. He decided to make this deal when he was just 25 himself. According to some reports, he has joined as a low-risk stakeholder, and he invested about 1 crore in the club.
On 23rd March, 2022, Rage Coffee announced that Kohli has become the brand ambassador and an investor in the coffee brand.
Kohli and Anushka jointly invested in Blue Tribe, a startup founded by Nikki Arora Singh and Sandeep Singh in 2017 who produce meat products, but made completely out of plants. They aim to spread the taste of age-old delicacies like keema, momos, minced chicken and chicken nuggets with a modern twist. All of their products will be made from lentils, grains, soybeans, peas etc. Kohli has recently become vegetarian, and he has said that he feels better than ever. Anushka has joined his husband to save a lot of animals from being killed to provide the meat.
Kohli invested 19.3 croes in a fashion startup named Universal Sposrtbiz, which is founded by Anjana Reddy. Then, they created the famous clothing and accessories brand Wrogn. Wrogn manufactures graphic t-shirts, shirts, denim jackets, jeans, cuffed chinos etc, all with fun colors and funky vibes.
Virushka invested a total of 2.5 crores jointly in Digit, an insurance startup based in Pune. They are backed by the Fairfax Group of Canada which is owned by the Indo-Canadian businessman Prem Watsa. Cornerstone, the consultancy firm representing Kohli also chimed in with their own funding of 1.1 crores.
He also has a smattering of investments in various sectors such as a South American cuisine restaurant 'Nueva' (New Delhi), UAE Royals (a Tennis team in IPTL), Sports Convo, and Bengaluru Yodhas (a Wrestling team in PWL), and Stepathlon Kids.
| | |
| --- | --- |
| Venture | Investment Amount |
| One 8 | – |
| Chisel Fitness | 90 crores |
| FC Goa | 1 crore (approx.) |
| Rage Coffee | – |
| Wrogn | 19.3 crores |
| Blue Tribe | – |
| Digit | 2.5 crores |
| Sports Convo | – |
| UAE Royals | |
| Bengaluru Yodhas | |
| Stepathlon Kids | |
| Galactus Funware Technology Pvt. Ltd. | |
Interesting Facts about Virat Kohli
Rafting is Kohli's favorite adventure sport.
Kohli is an avid follower of tennis and football. He is a great fan of Roger Federer. Well, who isn't?
Virat's tattoos are quite popular and often generate curiosity. He has 11 tattoos in total: a monastery, the name of his mother and father, highest scores in ODIs and Tests, a meditating Lord Shiva, his zodiac sign (Scorpio), a tribal sign etc.
Kohli has been superstitious like almost every other cricketer. He always wears a Kada for good luck which he's been doing till 2012.
His charity, the Virat Kohli Foundation which he founded in 2013 supports education and provides essential healthcare to underprivileged children, and also gives financial support to potential athletes so that they can chase their dreams.
Virat and Anushka are both huge animal lovers. They've made a lot of personal contributions to help stray animals and even contribute regularly in wildlife relief projects.
Kohli took over the Test captaincy when India were crawling at the 7th position in the ICC rankings. All the legends were gone, MS Dhoni left the captaincy, and he stepped in. And later when he stepped down as the Test captain, India was ranked 1st. They say it's best to say goodbye at your highest point. Kohli did that really well.
Awards and Achievements
Sir Garfield Sobers Trophy (ICC Cricketer of the Year): 2017, 2018
Sir Garfield Sobers Trophy (ICC Men's Cricketer of the Decade): 2011-20
ICC Men's ODI Cricketer of the Decade: 2011-20
ICC Test Player of the Year: 2018
ICC ODI Player of the Year: 2012, 2017, 2018
ICC Spirit of Cricket: 2019
Barmy Army's International Player of the Year: 2017, 2018
Wisden Leading Cricketer in the World: 2016, 2017, 2018
Padma Shri: 2017 (Sports)
Arjuna Award: 2013
Rajiv Gandhi Khel Ratna: 2018 (Highest sporting honor in India)
In 2018, Time magazine named him one of the '100 most influential people in the world'
In 2022, Forbes listed him as the 61st athlete in their '100 highest paid athletes in the world' with an estimated earning of 33.9 million USD
DDCA (Delhi & District Cricket Association) renamed a stand of Arun Jaitley Stadium after Kohli
National Geographic's 'Mega Icons', a documentary series about the most prominent Indians, did an episode about Kohli (Season 1, Episode 1)
The only batsman in the history of the game to have an average over 50 in all three formats of cricket at the same time
Fastest century by an Indian in ODIs in 2013. Did it in 52 balls against Australia
First Indian batsman to score 3 back-to-back hundreds in ODIs
Highest number of runs in a calendar year by an Indian: 2818 runs in 2017
Most runs scored by an Indian cricketer in ODIs: 2010, 2011, 2012, 2013, 2014, 2015, 2016
6th most runs in ODIs: 12344
Most Hundreds against one team in ODIs: 9 against West Indies
2nd most Hundred in ODI career: 43 (only behind Sachin Tendulkar's 49)
Fastest cricketer in ODIs to reach 8000 runs (175 innings), 9000 (194), 10000 (205), 11000 (222), and 12000 runs (242 innings)
Fastest batsman to score 17000 runs in International cricket
The only batsman to have scored 20000+ runs in International cricket with above 50 average.
First batsman to score 6000 runs in IPL
Second fastest to 2000 T20I runs (56), and 2500 runs (68 innings)
3rd most runs in T20I career (3308), only behind Rohit Sharma (IND) and Martin Guptill (NZ)
Most player-of-the-series awards in T20Is: 7 times
The first Indian cricketer to score 10000 T20 runs (T20Is + IPL)
FAQ
What is Virat Kohli's net worth in 2022?
Virat Kohli's net worth will be above 950 crores in 2022.
What is Virat Kohli's salary?
It's above 20 crores per month easily, and Forbes estimated his yearly income to be somewhere around 262 crores.
How many endorsements does Virat Kohli have?
He is one of the most bankable celebrities in terms of endorsements, just like his old pal, MS Dhoni. He has done more than 40 endorsements.
Has Virat Kohli invested his money somewhere?
Oh yes, absolutely. He seems to have a good sense of investment. He has invested in passion projects like a football team, gym line and plant-based meat manufacturing companies etc., but has also made stable investments in various other companies and assets.