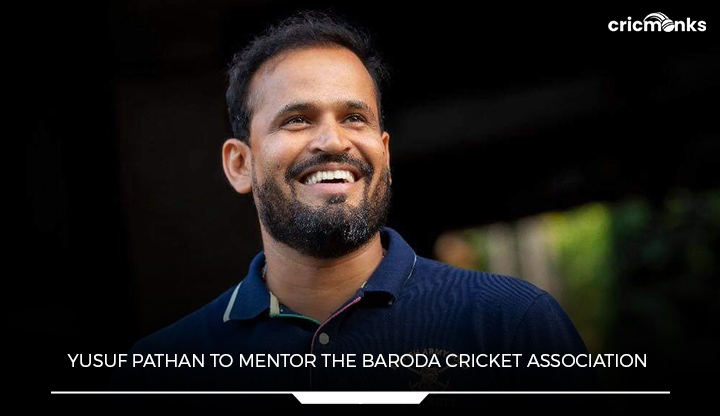 The hard-hitting Indian all-rounder Yusuf Pathan has been appointed as a consultant by the Baroda Cricket Association (BCA) to coach both young and senior cricketers. Pathan will shortly take on the job of coach and begin training with the BCA, assisting young and aspiring cricketers in his homeland of Vadodara. It is the first time that Yusuf Pathan has been associated with a team after his retirement from all forms of cricket.
With their Cricket Academy of Pathans, the Pathan brothers have already been assisting players from all around India (CAP). They have 31 facilities in India, including one in Salem and two in Tamil Nadu, which were just opened. Vadodara has been shown to be a reliable supplier of potential for the Indian cricket squad. Besides the Pathan brothers, Baroda also has the Pandya brothers (Hardik and Krunal) and Indian stars Yastika Bhatia and Radha Yadav representing the Indian national side. 
"The decision to rope in Yusuf was taken by the BCA apex council on Friday. His initial contract will be for one year and it will be reviewed in the next season," said Shishir Hattangadi, CEO of the Baroda Cricket Association, stating that Yusuf Pathan's main task would be to watch the improvement of young, outstanding cricketers.
This Will Be Yusuf Pathan's First Major Stint Post His International Retirement
Yusuf Pathan first came into the Indian side during the 2007 T20 World Cup. He played his first and last match of the tournament in the final when he replaced the injured Virender Sehwag by opening the innings. He was included in India's side for the inaugural World T20 because of his propensity to score runs quickly, which was contested in South Africa. Pathan had the highest strike rate among players with more than 200 runs in the 2006-07 Ranji Trophy.
Yusuf Pathan had not taken on any new roles since announcing his international retirement in February 2021. The all-rounder made his ICC World Twenty20 debut against Pakistan in the final, alongside his brother Irfan Pathan. Since then, he has played in 57 One-Day Internationals (ODIs) and 22 Twenty-Twenty-Innings (T20Is). He has also played in the Indian Premier League for a long time. Yusuf scored 810 runs in ODIs, but just 236 runs in the 22 T20Is he participated. Pathan not only scored runs, but he also took 33 wickets in ODIs and 13 wickets in T20Is. Yusuf has also played 100 first-class games for Baroda, taking 201 wickets and scoring 4,825 runs at an average of 34.46.