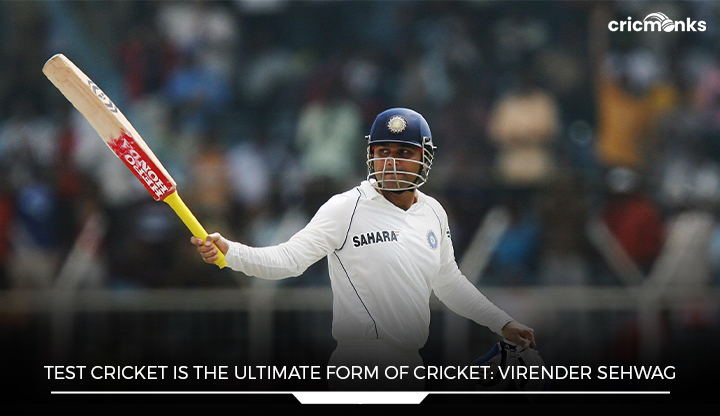 Virender Sehwag's fondness for Test cricket is unsurprising given his record in the game. In the forthcoming edition of Sports18's Home of Heroes, India's greatest devastating opener claims that Test cricket is the best form of cricket. Sehwag is someone who changed the way in which test cricket is played. He had the intuition to see the ball and hit the ball without diving deep into techniques and everything. He believed in his hand-eye coordination and smashed every baller out of the park at will.
He was one of the premium if not the best, openers India ever had in test cricket. He used to give nightmares to many of the greats of the game and had the reputation of being a fearless striker batting upfront for India. In a ten-year international career, Sehwag scored 8586 runs in Tests, averaging 49.34 with a strike rate of 82.23, and 8273 runs in ODIs, averaging 35.05 with a strike rate of 104.33. "In my personal view, Test cricket is the pinnacle of cricket," Sehwag stated in an exclusive interview with Sanjay Manjrekar on Sports18's flagship show 'Home of Heroes'.
Rishabh Pant is one of the future prospects of Indian international cricket and has shown his maturity in both the limited-overs and longer formats of the game. He is well known for his fearless batting ability, much like Sehwag used to have in his career. They are not bothered by anything apart from transferring the pressure onto the bowlers right from the beginning. Both these players play much alike because they take very little time to settle and play big shots, even in Test cricket.
Former India opener Sehwag has the opinion that the young batsman Rishabh Pant would be forgotten if he only played white-ball games. "If he continues on to play 100+ Tests, his name will go down in history forever." Only 11 Indian batsmen have achieved this milestone, and everyone knows who they are. Although lesser formats have proven lucrative and provide rapid pleasure, Sehwag believes that 99 percent of IPL players would like to play Test cricket. "Why does Virat Kohli place such a high value on playing tests?" "He understands that if he plays 100-150 or even 200 Tests, he will go down in history," he continued.
The Nawab of Najafgarh further mentioned his proclivity for striking boundaries with the opening ball. "Many people, particularly Tendulkar, assured me that I was going to knock the first ball over the fence." But I never did," says Sehwag, who is second on the record of Test hitters with the most fours in an innings and third in ODIs. "I'd be ready to hit the first ball, believing it'd be a loosener or a warm-up delivery."
Just like Virat had the opinion of giving more importance to Test cricket when the tide started shifting towards the shorter format of the game, Sehwag also has the opinion that Test cricket is the ultimate form of cricket and you only become a great of the game once you have stamped authority in the toughest format.