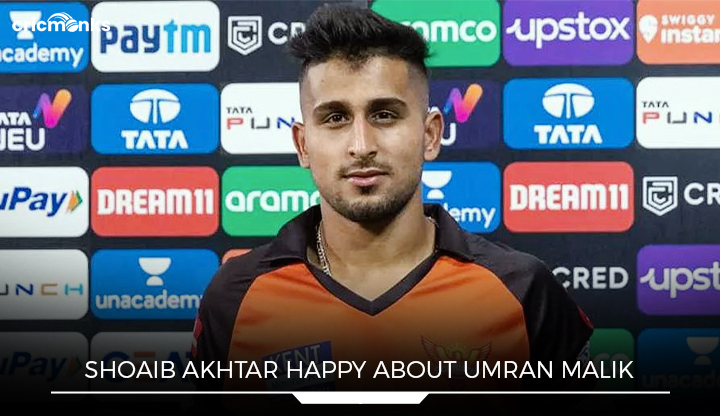 The fastest bowler to have ever played the beautiful game, Shoaib Akhtar has shared his honest feelings on the new bowling sensation from India. He expressed his wish to witness the young gun break his own record of the fastest ever ball in the history of international cricket.
In the 2003 World Cup, the veteran Pakistan bowler registered a 161.3 kmph delivery (100.2 mph), a record that has stood for a considerable period. Meanwhile, Sunrisers Hyderabad bowler Malik has consistently produced speeds beyond 150 Kmph in the present IPL 2022 season.
The Jammu and Kashmir express has been under the limelight since the beginning of this year's IPL as it is very rare to see pace bowlers constantly clocking over 150 that too from India. Malik has already a lot of experts after bowling the fastest delivery of IPL 2022 when he recorded a 157 Kmph ball which in fact became the second fastest ever in the history of the tournament.
One important thing to note about Malik is that he is not only about raw pace, but he has some consistent line and length as well. He has scalped 18 wickets in 12 matches and proved that the retention by Sunrisers was worthy enough.
I will be happy if Umran Malik enters the 100-mph club: Shoaib Akhtar
Akhtar stated that he wants to see Malik have a lengthy international career, which may be difficult for fast bowlers, and that he would be glad if Malik broke his record. He also stated the significance of playing without injuries, since rapid bowlers put a lot of effort into their bodies. However, he anticipates seeing Umran in international colors shortly.
"I want him to have a lengthy career." Someone congratulated me a few days earlier since it has been 20 years since I bowled the quickest delivery and no one has been able to beat the record. But I told myself, 'There has to be someone who can break this record.' If Umran smashes my record, I'll be overjoyed. But he must take care not to hurt himself in the process. "I want to see him play for a long time without being injured."Shoaib Akhtar said
"I want to see him on the international stage because he belongs there." There aren't many people who can reach 150 kph right now. Umran has shown a consistent ability to bowl at that pace. In the back of his mind, I want Umran to hit 100 mph. I'll be pleased if he joins the 100-mph club. However, he must avoid injuries that might threaten his career," he added.