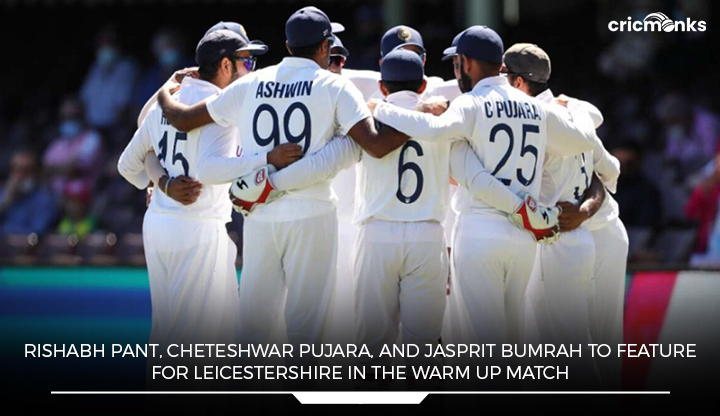 The Indian squad has arrived in England in preparation for the one-off Test match against the hosts that will begin at Edgbaston on July 1. Prior to the crucial Test match against England, India will play Leicestershire County Cricket Club (LCCC) in a four-day match on Thursday, June 23. In the morning practice on Wednesday, the team's captain, Rohit Sharma, Shreyas Iyer, Rishabh Pant, Shubman Gill, Hanuma Vihari, Jasprit Bumrah, and Shardul Thakur put in a lot of work.
Pre-match agreement between the BCCI, ECB, and LCCC resulted in the selection of Cheteshwar Pujara, Pant, Bumrah, and Prasidh Krishna to the Leicestershire team. Prior to the fifth Test's rescheduled date, the plan was designed to ensure that each player could obtain adequate playing time. Dispelling rumors that former captain Virat Kohli had the cOVID-19 virus, a team source has quashed all those claims and said, "All players are available for selection, and there is not a single Covid case in the camp," in a statement.
"India superstars Cheteshwar Pujara, Rishabh Pant, Jasprit Bumrah, and Prasidh Krishna will all team up with the Leicestershire squad, captained by opening batsman Sam Evans. LCCC, BCCI, and the ECB have all agreed to allow the four players from the visiting camp to be part of the Running Foxes side, to allow all members of the traveling party to participate in the fixture (subject to fitness)," the LCCC said in a statement.
It will be a great experience for our squad: County CEO Sean Jarvis on the opportunity to play against the Indian Team
The four-day warm-up match against a star-studded Indian team is something that the CEO of LCCC is looking forward to and feels will be a terrific learning opportunity for his club's squad. Jarvis also stated that the game will be very advantageous for both teams. Due to COVID-19, Ravi Ashwin missed his initial flight and will shortly rejoin the group.
"India brings a magical feeling to Grace Road. During their training sessions here you can feel the buzz already. It will be a great experience for our squad, especially players like Rehan Ahmed, to play against Virat Kohli and India's huge talents. We are sure both teams will benefit from the four days," Sean Jarvis said in a statement.
Squads for the warm-up game
India: Rohit Sharma (Capt), Shubman Gill, Virat Kohli, Shreyas Iyer, Hanuma Vihari, KS Bharat (wk), Ravindra Jadeja, Shardul Thakur, Mohammed Shami, Mohammed Siraj, Umesh Yadav.
Leicestershire CCC: Sam Evans (Capt), Rehan Ahmed, Sam Bates (wk), Nat Bowley, Will Davis, Joey Evison, Louis Kimber, Abi Sakande, Roman Walker, Cheteshwar Pujara, Rishabh Pant, Jasprit Bumrah, and Prasidh Krishna.