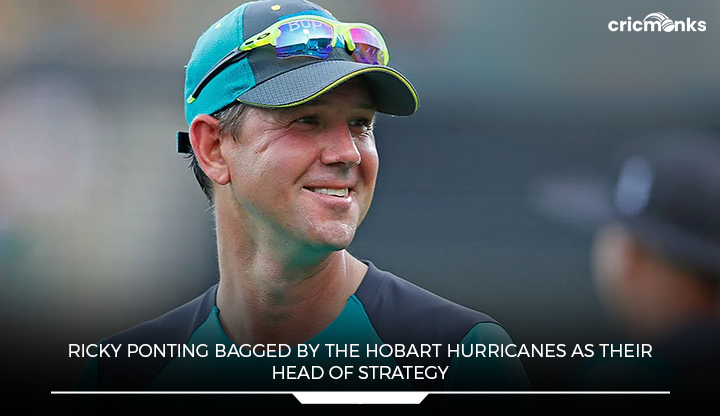 Ricky Ponting has been one of the pivotal figures of the deadly Australian side for many years. The three-time ODI World Cup-winning captain has donned the coaching role in many competitions like the IPL and BBL. Right now, the aggressive coaching figure of Ponting has been named Head of Strategy for the Hobart Hurricanes of the Big Bash League and has signed a three-year contract.  The Hobart Hurricanes announced that he will cooperate with the coaching staff on matchups and tactics. Ironically Ponting also represented the Hurricanes in the Big Bash League (BBL) from 2011 to 2013, however, the squad has yet to win a trophy.
According to the Hurricanes' release, Ponting will now select contenders for the already-vacant job of the coaching staff, according to the Hurricanes' release. Ponting believes he understands a lot more about Twenty20 (T20) cricket today than he did when he was playing. He stated that he is excited to find the greatest coach for the team's needs and then devise a strategy. He was a part of the Indian Premier League as the head coach of the Delhi Capitals and formed a formidable side that reached the finals of the 2020 edition. 
To be asked to take on such a critical role for the Hurricanes is really special: Ricky Ponting
The limited-overs competition has evolved dramatically over the years, according to the veteran Australia leader. He described himself as "enthusiastic" about the growth of Tasmanian and Australian cricket in all formats. With a few modifications in a few crucial areas, he feels the Hurricanes will have the platform to win their first BBL championship.
Ricky Ponting has previously worked as a coach for the Delhi Capitals (DC) and Mumbai Indians (MI) in the Indian Premier League (IPL), winning the tournament with MI in 2015. The Perth Scorchers are the current BBL champions, having defeated the Sydney Sixers by 79 runs in the final to claim their fourth title overall in the league.
"The tournament and the sport have evolved dramatically since I played for the Hurricanes in the BBL 01 and BBL 02, and I know a lot more about the complexities of the T20 sport nowadays than I did then," Ponting said.
"I'm enthusiastic about the development of Tasmanian and Australian cricket in all forms, so being asked to play such an important role for the Hurricanes is just incredible." I'm excited to go to work finding the best coach for the job and then putting together a strategy for the club to accomplish next season."