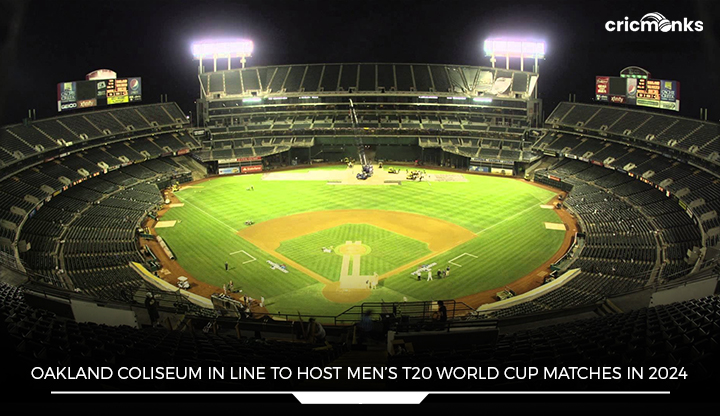 The 2024 ICC Men's T20 World Cup will be the ninth ICC Men's T20 World Cup competition, with twenty countries competing in June 2024 in the West Indies and the United States. The USA and the West Indies will co-host the 2024 Men's T20 World Cup and it will be the first time the United States has hosted an ICC World Cup competition.
As a result, the Oakland Coliseum has been considered a possible host for the event. This facility is home to the Oakland Athletics of Major League Baseball and the Oakland Raiders of the National Football League. Even though it is a baseball field, it is flexible in a way that it can be used for hosting cricket matches also. The ICC representatives subsequently spoke with USA Cricket authorities in California, where they discussed the matter.
The Oakland Coliseum's appealing setting and total capacity have both piqued the interest of cricket officials. The venue's area is host to a local cricket culture as well as a fan base that may be utilized. This venue can accommodate up to 53, 000 spectators, which is more than double the capacity of current cricket venues in the United States.
Cricket matches were already hosted on baseball grounds previously, as the Cricket All-Stars T20 Tour was played between Sachin Tendulkar and Shane Warne's teams in 2015 in New York, Houston, and Los Angeles. It would be exciting for the crown in the USA to experience the excitement of cricket matches traveling across their lands as well.
Barriers to Hosting the 2024 T20 World Cup in Oakland Coliseum
Even after having these significant characteristics, this venue must overcome certain critical obstacles in order to adequately host World Cup events. Because the venue is in the Pacific time zone, telecasting the contests will be difficult. Nevertheless, this arena can accommodate a double-header or triple-header on the identical days that it can accommodate UK primetime.
Additional barriers may be the venue's accessibility, as the tournament may occur in the heart of a baseball campaign. Drop-in pitches must be authorized to be installed by cricket officials. In general, no more than two or three matches can be evaluated at the given location. This is one particular factor to consider while hosting cricket games at this venue. With the US being much more accomplished with ground management and facilities, hosting cricket matches could be done with ease.
This stadium was built in accordance with baseball and football regulations. As a result, square bounds must be updated as needed. Based on its sustainability, local organizers are considering this site for the T20 World Cup. We even intend to have some trial games by the conclusion of 2023 to get a better understanding of what should progress. Assuming it is approved, these trial games will take place between October and November, following the end of the baseball season.