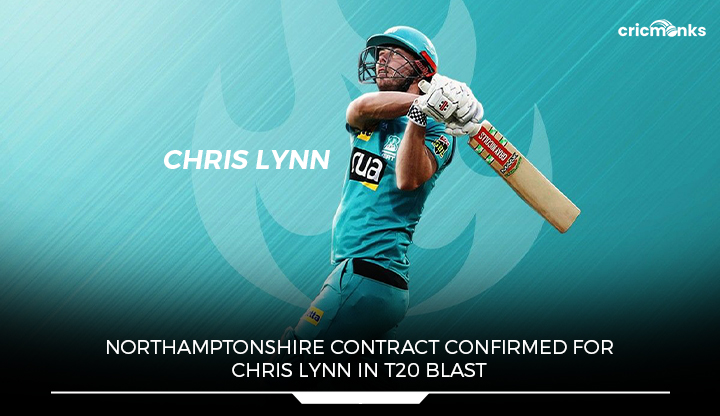 Northamptonshire Steelbacks have bagged the Australian opener Chris Lynn ahead of the much anticipated T20 Blast. One fascinating aspect of this exciting edition is that the Aussie opener will be playing his first ever county tournament in his career. The 32-year-old from Brisbane has represented 18 T20Is for Australia and also four OneDay Internationals. He was a regular face of the limited overs side during the years between 2014 to 2018. The Northants' were keen on taking this Aussie after they bagged James Neesham for the upcoming year. It was announced officially on May 2 that the Australian opener will be representing the county team. Lynn was a part of the Hundred tournament that took place last year and made his debut for the Northern Superchargers and along with that, this will be the first time he is going to represent an English T20 side.
"I've really enjoyed playing domestic cricket, and I'm incredibly excited to be joining Northamptonshire for the Vitality Blast." The United Kingdom is a fantastic venue to play, and I'm hoping to help with some solid efforts while also entertaining Steelback supporters this summer."Lynn was quoted
He has heaped over 6,000 runs in 230 T20 matches and has an excellent record overall that includes 40 half centuries and two tons. It is important to note that he has also captained the Brisbane Heat on a few occasions in the Big Bash League. Although he was not playing to his potential in the last few years, he has earned himself a big reputation of being a clean striker that any team would not want to miss out on an opportunity to make him play for them. Chris Lynn averages 23.20 in T20 cricket since August 2020, and has a strike rate of 133.33.
I really get the feeling Lynn has a hunger to go out there and perform: Josh Cobb
Northants manager Josh Cobb believes Lynn is the appropriate fit for his club as an opening batter and as a substitute for Adam Rossington. "Getting somebody of Lynn's caliber is a fantastic signing." He fits the bill beautifully in terms of strength at the top of the lineup and fills that role nicely for us. "I get the impression he's hungry to go out and deliver, and if he does, Wantage Road won't be huge enough," Cobb said.
"Lynn has also led the Brisbane Heat for a lot of years, so he adds those organizational characteristics as well." "I'm hoping to work with him and hearing any other perspectives he may have," he continued.
Northants are two-time winners of the tournament, but have not won a championship since 2016. They begin the 2022 campaign on May 26 at Edgbaston against the Birmingham Bears, backed by a home match versus Durham the following night.