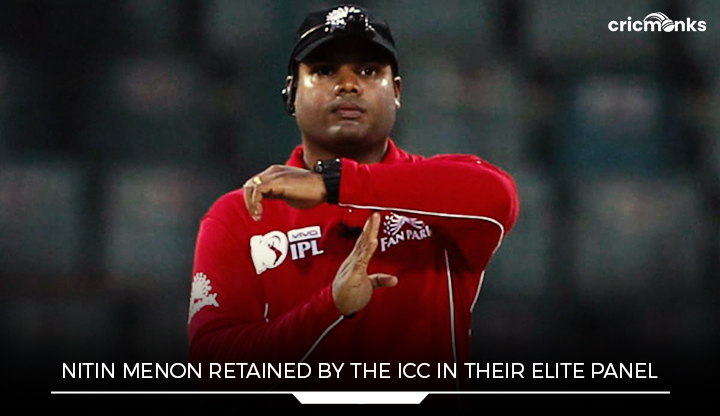 Nitin Narendra Menon, the Indian umpire from Indore, Madhya Pradesh, who is 38 years old, has been once again re-elected to the ICC Elite Panel and will soon make his return to Sri Lanka as a neutral umpire. He is an Indian umpire who competed for Madhya Pradesh in List A cricket and has officiated in both the Australian Sheffield Shield and Ranji Trophy competitions. He replaced Nigel Llong in June 2020 and became the only other Indian to join the Elite Panel of ICC Umpires after S Venkataraghavan and S Ravi. He has impressed one and all in the IPL for many years also.
Nevertheless, because of the Covid-19 epidemic and travel limitations, the International Cricket Council (ICC) has permitted local umpires to officiate international matches solely in India. The International Cricket Council has resumed regular operations with Australian umpire Paul Reiffel conducting his responsibilities in the three-match Test series involving England and New Zealand in England as a result of the Covid-19 instances declining across the world and everything starting to recover.
Nitin Menon will continue to serve as a member of the ICC Elite Panel and will officiate in Sri Lanka later this month for the first time as a neutral umpire. Due to a one-year extension from the International Cricket Council (ICC), he is also the lone Indian among the panel's 11 other elite umpires. Menon was the third Indian umpire to make the list when he initially joined the elite panel in 2020. He has not had the chance to oversee an international game outside of India, though, because of Covid-19 limitations put in place by the ICC.
There is no change in the ICC Elite Panel
"The ICC recently gave a one-year extension to Menon who has been our leading umpire over the last three to four years. You will also see him making his debut as a neutral umpire later this month," a BCCI official was quoted.
After the end of the existing T20I series between India and South Africa, Menon will go for a two-match Test series involving Sri Lanka and Australia, which will be contested between June 29 and July 12. Menon made his international debut on November 17 in a Test match between Afghanistan and West Indies in Lucknow and has officiated in 22 international matches across all formats, including 11 Tests, 30 ODIs, 27 T20Is, and 10 WT20Is.
The Indian umpires at the bottom tier of the ICC International Panel of Umpires are Virender Sharma, J Madanagopal, and K N Ananthapadmanabhan. Menon is one of the remaining members of the Elite Panel, which also includes Chris Gaffaney from New Zealand, Marais Erasmus from South Africa, Richard Illingworth, Richard Kettleborough, Michael Gough from England, Joel Wilson from the West Indies, Paul Reiffel, Rod Tucker from Australia, Kumara Dharmasena from Sri Lanka, and Aleem Dar from Pakistan. All of the previous members of the Elite Panel have also been preserved.