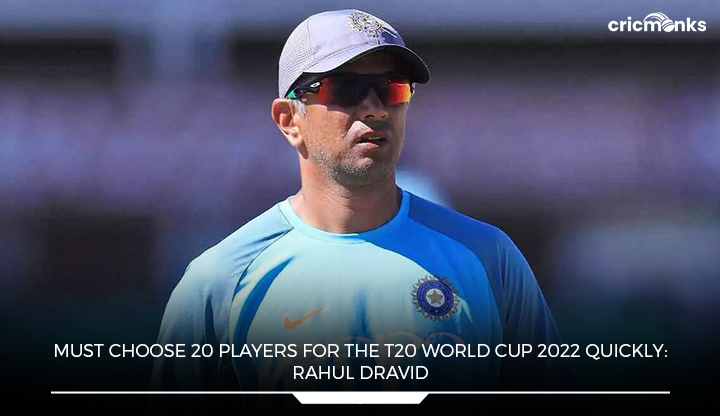 The wall of Indian cricket, Rahul Dravid took over the role as Indian head coach this year and it has been quite an up and down journey for both the coach and the team all the way. Rohit Sharma on the other hand has only improved his captaincy record ever since he took over the captaincy to be the permanent captain of team India across all formats. However, the head coach of India has felt the need to finalize the side as quickly as possible heading into the much anticipated T20 World Cup this year.
India's current coach Rahul Dravid recognized the necessity to quickly decide on a group of 20 members for the eagerly anticipated T20 World Cup 2022, which will take place this year in Australia. The Men in Blue, led by Virat Kohli, were shockingly eliminated from the T20 World Cup 2021 in the group phase. This time around, Rohit Sharma and coach Dravid will serve as the team's commanders for the competition. Up until the most recent South Africa series, when India came under scrutiny, the tandem has so far been highly successful.
A youthful India squad led by Rishabh Pant endured back-to-back crushing losses in the first two matches of the five-match series despite the absence of the stalwarts Rohit, Kohli, and Jasprit Bumrah. They played the very same team in the following two games, displaying a ton of potential as they leveled the series. The tournament, unfortunately, ended in a 2-2 tie because the last game was rained out. When the major stars return to the squad, Dravid, who has been studying the performances, will have a fierce battle. The tournament also opened his eyes. Hardik Pandya will captain the Indian team for the upcoming T20I series in Ireland.
You want to take only 15 to the World Cup: Rahul Dravid
Given the uncertainty in the current environment, Dravid stressed the significance of selecting the team before the T20 World Cup. He estimated that between 18 and 20 participants would need to be found for the competition before being cut to 15 for the gigantic stage. He continued that injuries may develop in the interim, but he was confident in his ability to rapidly finalize the side.
"As you come closer and closer to the event, you want to firm up your final squad or if not, you want to have some contingencies in the kind of world we live in today. Obviously, you want to take only 15 to the World Cup but (need to identify) top 18 to 20 players," Dravid responded.

"Obviously, there could be odd changes due to injury and things that are beyond your control but we are going to start looking to firm up that squad as quickly as possible. Whether that will happen in the next series (Ireland) or series after that (England) is hard to tell but we are certainly looking to do that as quickly as possible," he added.