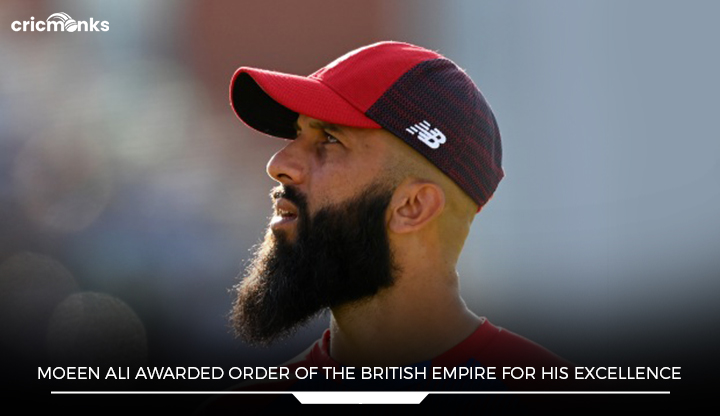 Moeen Ali started his international career in 2014 when he made his debut in the longest format of the game. His slow off-spin and hard-hitting ability helped him make his way into the limited overs side as well. He has been a vital part of the England side for so many years now and he has now been rewarded for his excellence in the game of cricket.
Moeen Ali has been named in the Queen's Platinum Jubilee Honors list and has been presented with the Order of the British Empire (OBE) for his contribution to English cricket. Even though he made his debut back in 2014, it took time for him to be a regular face of the English side as they are always filled with numerous all-rounders. Moeen Ali was an integral part of the 2019 World Cup-winning England side as well.
Moeen Ali had previously retired from the longest format of the game in 2021 to concentrate more on the shortest format. He had 195 wickets to his name in 64 games and 2914 career runs as well. Moeen Ali even though predominantly bats in the middle order has a strong attacking game opening and playing up the order as he has showcased in the Indian Premier League playing for the Chennai Super Kings.
"It's an honor to be recognized, it's amazing and my family is really proud and happy. More than anything, I know it makes my parents happy. It's not about runs and wickets. I think it's more about the journey I've been through and all that kind of stuff, I guess. It's my background, my upbringing, and all that. All those kinds of things I've been through throughout my life," he was quoted
As soon as I played for England, people labeled me as being a potential role model: Moeen Ali
Moeen, a Birmingham-born cricketer of Pakistani descent, has never been shy about speaking out about his beliefs and how he has faced discrimination on times. Nevertheless, Moeen, who characterized the OBE as "almost the icing on top," has not always been comfortable with becoming a style icon for Britain's Asian population.
"From the word 'go', as soon as I played for England, people labeled me as being a potential role model or role model. It is a big responsibility…But as time has gone on, you kind of accept it and deal with it a lot better. You have to accept it and realize you are probably a role model even though you don't like saying it too much. You do inspire a lot of people, especially from the inner city and the people that can relate to you. I don't like that term role model, to a certain extent, but I know my role and what I need to do," he added.