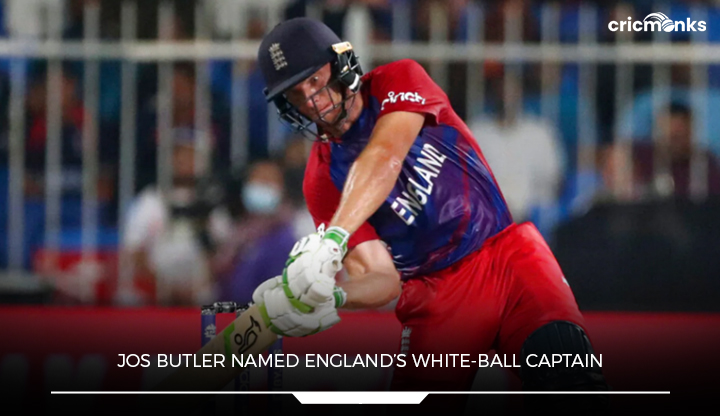 Jos Buttler has been named England's next white-ball captain by the England and Wales Cricket Board (ECB). Eoin Morgan resigned from international cricket before this week due to poor form and fitness, and even he had urged Buttler to take over as captain. Butler has filled in for Morgan multiple times in recent years and is perhaps in the best shape of his life after a stellar run in the Indian Premier League (IPL) and the ODI series against the Netherlands.
His first task as England's full-time captain will be the T20I and ODI series against India. The battle will continue in the shortest format on July 7, with the ODI series beginning on July 12. Jos Buttler has already captained England 14 times including 9 ODIs and 5 T20Is and isn't completely new to the role. He has been the vice-captain of the side for a prolonged period and has enough experience in his shed to lead a side like England which is full of firepower.
It Is a Great Honor to Captain Your Country, Says Buttler
Jos Buttler is excited to take over as England's white-ball captain and has complimented Eoin Morgan for leading the team to new heights throughout his stint. He also described Morgan as a great captain and expressed excitement about guiding England against India and South Africa this summer.
"I would like to offer my sincere thanks and gratitude to Eoin Morgan for his outstanding leadership over the past seven years. It has been the most memorable period for everyone involved. He has been an inspirational leader, and it has been fantastic to play under him. There are lots of things that I have learned from him that I'll take into this role."
"It is a great honor to take over from Eoin, and the place he has left English white-ball cricket in is exciting, and I'm inspired for the challenges ahead. There is excellent strength-in-depth in the white-ball squads, and I'm looking forward to leading the teams out for the series that are coming up against India starting next week and later in July against South Africa."

"It is the greatest honor to captain your country, and when I have had the chance to step in the past, I have loved doing it. I can't wait to take this team forward," Butler said in an official press statement released by the ECB.