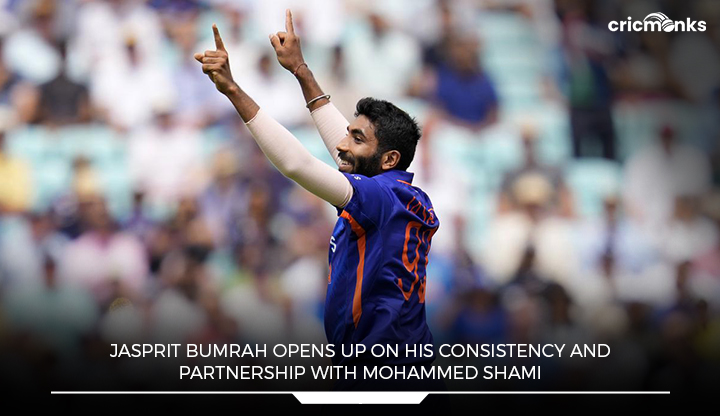 India's 10-wicket win over England on July 12 was largely due to the pacers' dominance in the first session. Jasprit Bumrah and Mohammad Shami's combination has done miracles for the Men in Blue, and the latter feels that interaction is the secret to their triumph. Bumrah and Shami were simply unplayable for the English batters as they shared nine wickets between them. Bumrah picked up six wickets with four of them disturbing the timber. Shami was equally destructive as he supported with three wickets. The reaming one wicket was picked by rookie Prasidh Krishna. The fast bowlers obviously had a spectacular day. England was bowled out for 110 runs, and Indian openers raced the total down to win the match without conceding a wicket.
"Communication is always there when I and Shami bowl in tandem. We started talking today, and we realized that the ball was swinging today, he is an experienced bowler. When a pair compliments one another, it is a very good thing. He is a very skillful bowler and he has been playing for India for a very long time. I enjoy bowling with him. We keep on having conversations in the middle, he is a very skillful bowler," Bumrah said in a press conference post the first ODI.
It Is Critical That There Is a True Wicket so That Every Player is in the Game: Jasprit Bumrah
In the T20I series, Bumrah came in and out of the match, while Shami did not play. However, India entered the ODI series with a full team. Both Bumrah and Shami have been significant parts of India's bowling set up, and the skill they provide to the table adds a lot to the sport.
"It is important that there is a true wicket so that every player is in the game and there is a fair competition and in the end, it becomes a matter of skill. When the ball was getting soft, it was getting easier to bat. But we got wickets with the new ball and it worked out well for us," he added.
I Enjoy Every Format Equally: Jasprit Bumrah
Jasprit Bumrah also stated that he enjoys playing all different formats equally and gives his hundred percent in every game.
"I like to stay in the present. Nowadays, there are a lot of opinions and noise that can impact you and create confusion as a player. I try to focus on my evaluation and my preparations. I work on my processes and accept whatever the result is," said Bumrah in the post-match conference.
"I don't think on the lines of I am very good in this particular format or how good I am and so on. I enjoy every format. Obviously, I respect people's opinions, but I don't take them seriously, whether it is good or bad. Very grateful for the applause that I get, but I always try to keep a stable head."
"That's the beauty of cricket. One day, you feel everything is going in your favor. On another day, nothing you try works. That's why it's important to be stable. Every day is a new day. Sometimes you will get an edge with the first ball. Another day, you will bowl the whole day and not find the edge even once," he added.