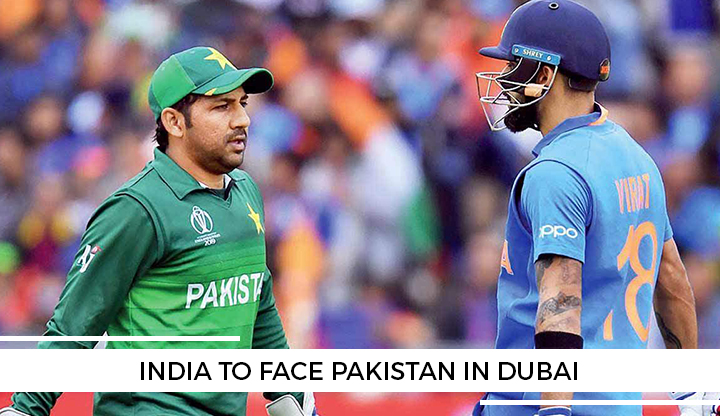 The much-anticipated ICC T20 World Cup will begin on October 17. Last month, the world cricketing body unveiled the groups of teams in action, and the tournament's entire schedule will be released soon. In order to qualify for the Super 12, eight teams will compete in round one. The top eight teams in the standings as of March 20, 2021, have already qualified for the main round and will compete in the tournament.
And now it's been confirmed that the high-octane showdown will take place on October 24. However, the entire schedule is yet to be released, and it is expected to be done shortly.
Speaking to ANI, sources in the know of developments confirmed the date. "Yes, the arch-rivals will clash on October 24."The arch-rivals India and Pakistan have been placed in the same group as New Zealand and Afghanistan, with two more teams from the qualifiers joining them later. Among all of the matches, cricket fans all across the world are looking forward to the encounter between India and Pakistan.
The groupings for the Men's T20 World Cup 2021 were released by the International Cricket Council (ICC) last month and will be hosted by the BCCI in Oman and the United Arab Emirates (UAE) from October 17 to November 14, The Super 12s have placed arch-rivals India and Pakistan in Group 2.
The two teams will face off in the main event's group stages. In Group 1 of the Super 12s, defending champions the West Indies are paired alongside previous champions England, Australia, and South Africa, with two qualifiers from Round 1 joining them, based on team rankings as of March 20, 2021.The first round will feature eight teams, including automatic qualifiers Sri Lanka and Bangladesh, as well as the remaining six teams who qualified via the ICC Men's T20 World Cup Qualifier 2019.
In Group A, Ireland, the Netherlands, and Namibia will meet Sri Lanka, while in Group B, Oman, Papua New Guinea, and Scotland will face Bangladesh.All of the Super 12 round matches will be held in the United Arab Emirates, mostly in Sharjah, Dubai, and Abu Dhabi.
Returning to the match between India and Pakistan, the Men in Green have never won a World Cup game against their arch-rivals in any format. It would be interesting to see if India can maintain their winning streak against Pakistan this time.