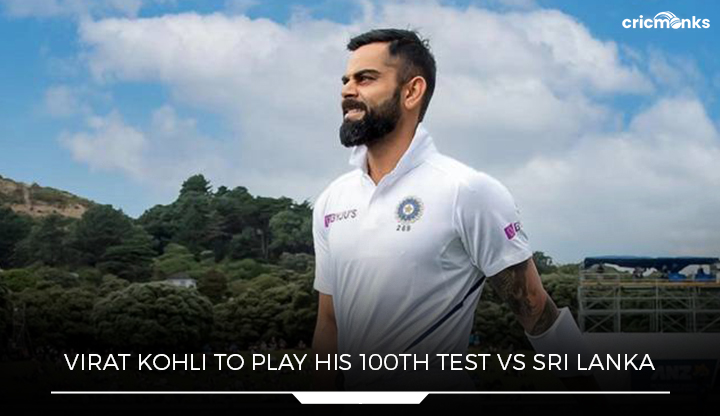 Virat Kohli, the living legend and icon is Indian cricket is on the verge of achieving a mammoth feat as he is entering an elite group of people who were fortunate enough to represent India 100 times in their career. The upcoming Test match of India against Sri Lanka at Mohali will start on March 4. He is the epitome of consistency when it comes to batting in cricket and there is no one better than him in chasing down targets. He is incomparable across formats and he is one of the rare batsmen who were able to excel across formats for a longer period of time. The former Indian captain ruled the cricketing world over the last decade and he has made several records of his own in a short span of time.
The 33-year-old right-hand batter has scored 7962 runs so far in his career and no one in his generation has come even close to it. He is among the only few cricketers at the international level to average well above 50 across formats. Virat Kohli has always been the center of attraction especially when he is on the field giving energy to his fellow teammates. He transfers his aggressive mindset to the people around him and that has played a major role in shaping up the Indian National Men's cricket team that we see today.
There has never been any doubt about Kohli's love and enthusiasm for Test cricket, and his dedication on the field demonstrates the measure of esteem he has in the game. After playing his 100th test, Kohli would join an elite group of Indian cricketers who have reached the milestone, becoming only the 12th Indian player to do so.
I have worked really hard for my fitness: Virat Kohli
Kohli also brought up the fact that it was never in his dreams to play 100 Test matches for India and also recalled all the hurdles he had to face while representing the nation for this much period of time. He was overjoyed to be on the edge of a huge accomplishment and stated that it is a gratifying time for him, his family, and his coach.
"I genuinely never imagined I'd play 100 Test matches." It's been a long road. Over the course of those 100 Test matches, we played a lot of cricket. There was a lot of international cricket. I'm just thankful that I made it to 100. God has been gracious. I've put forth a lot of effort to improve my fitness. It's a significant time for me, my family, and my coach, who is also extremely delighted and pleased of this Test match in my opinion." Kohli said
Kohli went on to say that he'd consistently fixed his focus on playing such huge innings and had never limited his aspirations. He was also outspoken about Test cricket being the greatest format and wanting it to remain around for a long time.
"I was never taught that I had to score tiny runs; the aim was to score huge runs." In junior cricket, I had a lot of double hundreds. My plan was to bat long, and I had a lot of fun doing it. These experiences sapped your energy and showed your actual character. Test cricket has to be revived; for me, this is true cricket." he added.