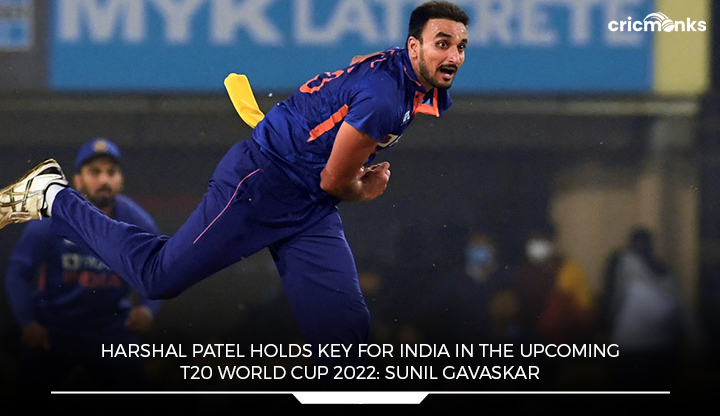 Sunil Gavaskar, the legendary figure in Indian cricket, believes that Harshal Patel, the quick bowler, might be one of Rohit Sharma's secret weapons in the forthcoming T20 World Cup 2022. Graeme Smith, the former captain of South Africa, also praised Harshal, stating that the Indian fast bowler is a "huge value" to the side and possesses all the qualities of an all-around bowler. Gavaskar thinks it is "wonderful" for a skipper to be able to rely on someone like Harshal. After a string of successful performances in the Indian Premier League (IPL), the 31-year-old has played a key role for his country since making his debut in 2021, taking 18 wickets in 13 T20 Internationals with an economy rate of 8.13.
"He will be one of the trump cards because you have Bhuvneshwar, Shami, and Bumrah as well," said Gavaskar, on Star Sports. "Brilliant for a skipper to have someone like him to depend on, he can come in and bowl maybe even in the powerplay where people are now going with the change of pace. So yes, he certainly should be part of the group," he added. 
Harshal Patel is a clear thinker under pressure: Graeme Smith
The 31-year-old is a sharp mind, according to Smith, and does a great job under crisis. Harshal ended with seven wickets in four innings and a 7.23 economy rate in the just concluded T20I series between South Africa and India.
"He has been excellent. Nobody skills in the death overs with the slower balls…but I feel from game 3 he found his right length and picked up wickets and kept the pressure on the South Africans," said Smith. "He has all the skills as an all-rounder bowler and is a big asset to the team and handles pressure very well and is a clear thinker under pressure," he added.
Harshal Patel has outgrown himself to develop as one of the most skilled T20 bowlers at present and picked up 32 wickets in IPL 2021 and 19 wickets in IPL 2022 for Royal Challengers Bangalore at economies of 8.14 and 7.66, respectively. He has developed a reputation as a skilled death-over expert thanks to his off-cutters, slower releases, and other minor modifications.