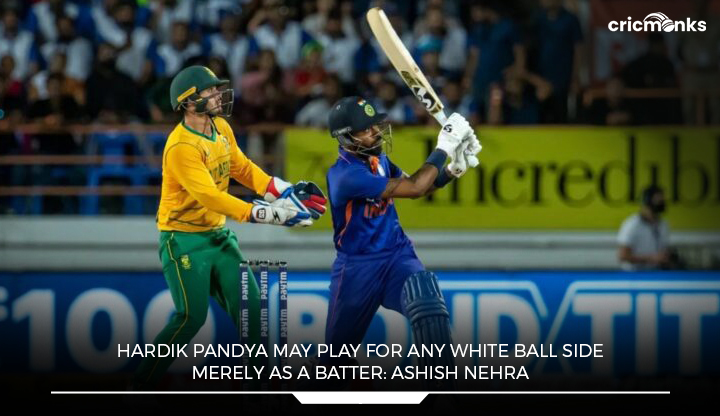 Hardik Pandya's bowling has suffered as a result of the extensive back surgery he underwent in 2019. The star Indian all-rounder was suffering from back pain, which led him to fly to the United Kingdom for treatment because it was affecting his play. His IPL coach, Ashish Nehra, believes Hardik may be utilized as a sixth bowler and therefore should be regarded solely as a batting all-rounder.
After fully recovering from his injury, the Baroda player was struggling often across all forms. His miraculous recovery in the IPL while captaining the Gujarat Titans won Hardik a spot in India's current T20 team as the world witnessed a different side of his game when he contributed both with bat and ball.
"Even Hardik won't be able to answer that since you can plan but things don't always fall into place. But so far so good. Hardik can be in any white ball team solely as a batter. On top of that, if he bowls it will be a bonus. But you can't keep him as your fifth bowler in T20 or 50 overs. He can only be your sixth bowler," Nehra told.
Pandya worked for a long period of time with Ashish Nehra, the former India cricketer who was the new team Gujarat Titan's head coach, during his stint in the IPL. In their first appearance at the huge event, the couple managed to operate for them and raised the famous cup in flair. As the 28-year-old has rejoined the ODI system, there have been concerns over his bowling the 10-overs limit, as Nehra did not have a definitive response.
"But looking at his fitness, you have built it up slowly. He will not be going to the West Indies for ODIs which is good in a way. When you are an out-and-out fast bowler you don't have a choice. You have to bowl, you have to be fit, but it's not the case with Hardik. He has been doing well during the last 2-3 months," he added.
You Are Only Going to Struggle When You Look at Hardik Pandya as Your Fifth Bowler: Nehra
Nehra says Hardik Pandya may be considered the team's fifth bowler, but feels it is considered him as the sixth bowling option is only going to benefit the team.
"He can bowl 10 overs also in 50-over cricket. But even if he gives 5-6 overs, it's a huge bonus. Yesterday (Tuesday, 1st ODI) you had four bowlers besides Ravindra Jadeja and Hardik. You are only going to struggle when you look at Hardik as your fifth bowler," Nehra stated.