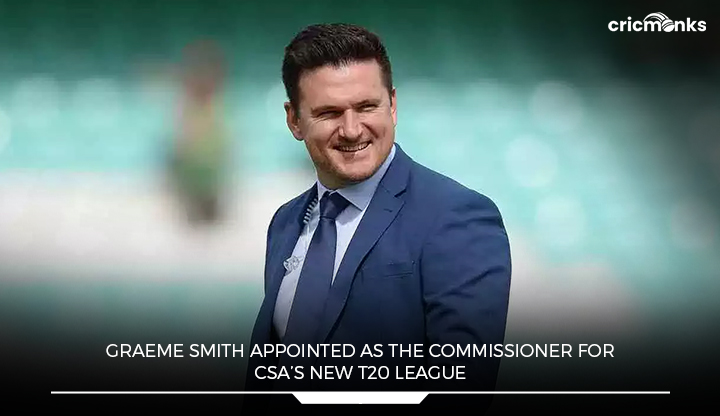 Graeme Smith, the veteran South African leader, has been named commissioner of the CSA's new T20 competition. As South Africa enters the domestic T20 league scene, Test cricket's most accomplished leader Smith will manage both the cricketing and non-cricketing parts of the league. This is the first time a retired player has led a T20 league.
The suggested league will actually occur in January and February of 2023. In order to make way for the league, the CSA has ignored its international obligations, including the bilateral ODI series in Australia. Because of his leadership roles and attitude on and off the game, the erstwhile South African captain is a great role model for aspiring players in the nation. His encounter will be crucial, as he will have to facilitate the proper functioning of all activities as well as create a brand image that draws audiences year after year.
"I'm extremely honored to be entrusted with leading this exciting new venture and deeply committed to South African cricket and happy to serve the game as best I can. I'm excited by the opportunity to deliver the new league, which I believe will be an extremely competitive product, one that can bring the much-needed investment into the game and provide new opportunities for players around the world, and more importantly to our SA home grown talent," Smith said to the media.
We're determined to deliver a valuable, sustainable, and appealing tournament for South African cricket: Graeme Smith
Throughout the procedure overseen by accounting and consulting company Deloitte, all six competing teams were acquired by IPL sides. The presence of IPL teams will help build the league's appeal, and the clubs will also get monetary support from Indian investors, which has become a vital requirement for CSA in recent years.
"The response from stakeholders has been very positive thus far and we've made great progress in the initial stages. We're determined to deliver a valuable, sustainable, and appealing tournament for South African cricket," the former Protean skipper added.
The CSA T20 league has the potential to become a mini-IPL, with up to six IPL owners interested in having teams in this event.
The bidding ended on Wednesday (July 13) with 29 Expressions of Interest (EoIs), however it is thought that the IPL expenditure topped the franchise auctions. Mumbai Indians, N. Srinivasan of Chennai Super Kings, Parth Jindal of Delhi Capitals, the Maran family of Sunrisers Hyderabad, Sanjiv Goenka of Lucknow SuperGiants, and Manoj Badale of Rajasthan Royals have walked away with the league's available six franchises.
Here are IPL owners of all six franchises of the SA T20 league
| | |
| --- | --- |
| Cape Town | Mumbai Indians |
| Johannesburg | Chennai Super Kings |
| Durban | Lucknow SuperGiants |
| Port Elizabeth | Sunrisers Hyderabad |
| Pretoria | Delhi Capitals |
| Paarl | Rajasthan Royals |