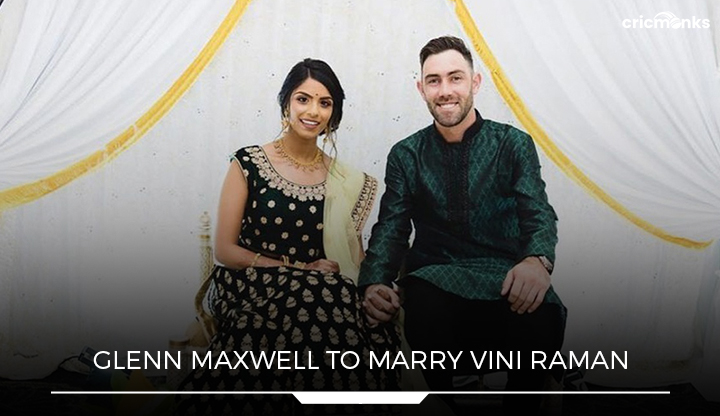 The versatile Australian batter, Glenn Maxwell, is all set to get married to his Indian girlfriend, Vini Raman, on March 27. The Tamil wedding invite is already viral on social media as Vini is of Indian origin. The invitation card is based on Tamil traditions, and the marriage is also likely to follow the same customs. Fans from all around the world are pretty excited about the fact that their favorite batter is getting married to an Indian. The wedding ceremony is also likely to be conducted as per Tamil traditions. It has been more than a year since the couple started dating, and now they are once again under the spotlight due to the wedding card that began to circulate over the internet.
Maxwell was the one to share the engagement news through his Instagram account. His fiance Vini Raman also shared the same and now fans from everywhere are curious about knowing more about Vini Raman and their story. It is said that the marriage is likely to take place within a month. Traditional Tamil muhurtha pathirikai (marriage invitations) were distributed by the couple, and the picture that actress Kasturi Shankar shared was the one that went viral on Twitter. Shankar said in her tweet that she was expecting a conventional Tamil Brahmin wedding and asked if there would be a formal event as well.
More about Vini Raman, Glenn Maxwell's fiancée
Vini is an Indian-origin girl who is currently working in a pharmacy in Melbourne. She had moved to Australia earlier and now is living under Australian citizenship. She was in a relationship with the Australian cricketer and was seen accompanying him on many events, such as the Australian Cricket Awards in 2019 and 2020. She is following the Tamil traditions because of her family, which has roots in Tamil culture. She had completed her studies in medical science at Victoria, and ever since she came into the limelight with Maxwell, she started to get a lot of attention, especially on social media.