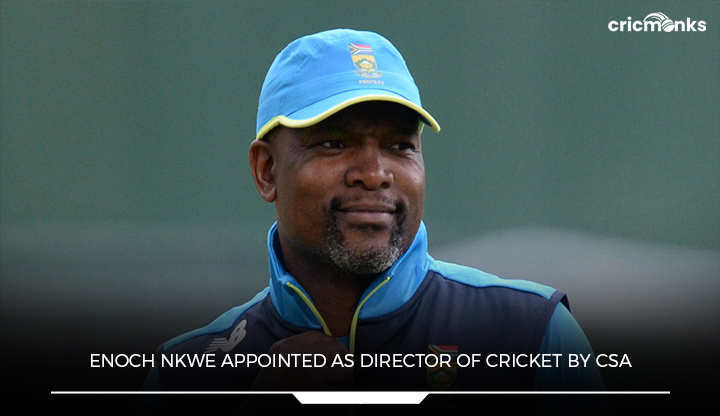 Retired and former head coach of domestic team Jozi Stars, Enoch Nkwe has been named as Cricket South Africa's (CSA) new Director of Cricket, effective from June 30. (Thursday). He took over for former South Africa captain Graeme Smith. To be sure, the Proteas just completed a five-match T20I series against India. The tourists put on a terrific performance, winning two matches in the series, and we're in a dominating position in the fifth T20I when the weather forced the match to be called off. However, Nkwe now has the burden of leading South African cricket forward, and the CSA has big expectations of him.
"With a proven track record of using excellent personal, communication, and organization skills to lead and improve cricketing systems, recruit excellent personnel, and improve team efficiencies, Enoch was Strategic Cricket Consultant at Lions Cricket," CSA said in a statement.
"His responsibilities included assisting in managing, monitoring, and conducting the Men's National Team's daily training environment, including facilities and coaches, daily schedules, session plans, player workloads, player communication, and provided input, insight, and guidance to help inform the discussions of the National Selection Panel."
Enoch Nkwe Has Served as Interim Director Before
As previously stated, Nkwe took over for Graeme Smith, whose three-year term ended in March 2021. It should be noted that the local veteran earlier served as the temporary Team Director in 2019 before former left-handed hitter Smith was awarded the job. Nkwe's career includes 42 First-Class games, 38 List-A games, and nine T20 appearances. The veteran was named as the Netherlands' assistant coach in 2016. Nkwe was appointed head coach of the Highveld Lions two years later. The Lions won both the CSA T20 Challenge and the Debut-Class tournament in his first season as coach. The local icon will now strive to take the national team to new heights during his stay.