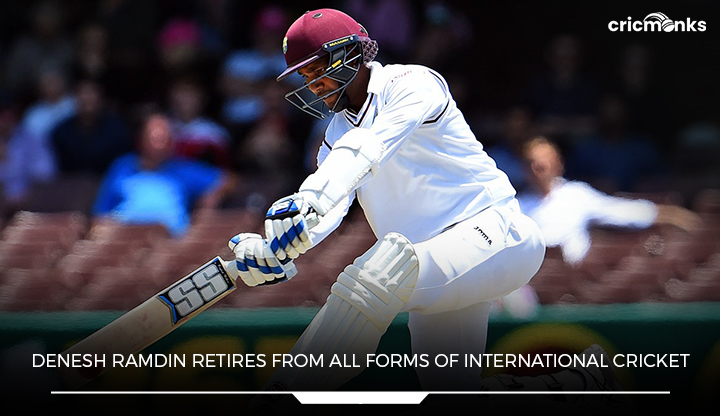 Denesh Ramdin, the former West Indies captain, has officially announced his retirement from all forms of international cricket with immediate effect. The Trinidadian wicketkeeper-batter, who has been a member of the Caribbean side since 2005 and owns several records while playing for his country. He will remain to compete in franchise-based events after taking retirement from international games. Ramdin hasn't appeared in an international match since December of 2019. He last played for the side in a Twenty20 International series against India in Hyderabad. Ramdin amassed 5,734 international runs in 74 Tests, 139 ODIs, and 71 T20Is.
"It is with great pleasure that I announce my retirement from international cricket. The past 14 years have been a dream come true. I fulfilled my childhood dreams by playing cricket for Trinidad and Tobago and the West Indies. My career afforded me the opportunity to see the world, make friends from different cultures and still be able to appreciate where I came from," he wrote on Instagram.
"Even though I am announcing my retirement from international cricket, I am not retiring from professional cricket. I will still be playing franchise cricket around the world. I take this opportunity to thank everyone who made an impact on my 14-year career, particularly my family, my beautiful wife Janelle, and our kids for all the sacrifices you had to make for me to be away for long periods of time during my international career. More to come… One Love," he added.
Ramdin has not been fortunate to secure a side for the forthcoming Caribbean Premier League season after having played for the Trinbago Knight Riders, St. Kitts & Nevis Patriots, and Guyana Amazon Warriors from 2013 to 2021. Ramdin made his Test debut against Sri Lanka in Colombo in July 2005, and his ODI debut against India in Dambulla the month later. He helped West Indies win the T20 World Cup in 2012 and 2016, however he only had one opportunity to play in the first seven league matches in the 2012 World Cup. Nevertheless, he was effective with the gloves behind the wickets, with six dismissals. He also recently announced his involvement in Legends League Cricket's second season. He will be participating in the league after his retirement life from International cricket.