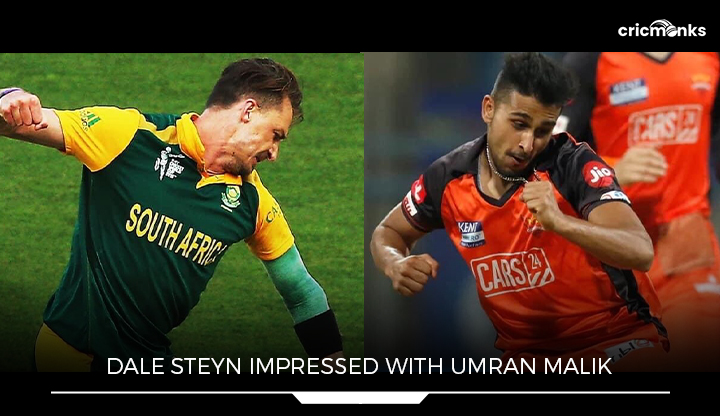 It was the match of the season so far when Sunrisers Hyderabad was defeated by the Gujarat Titans in the last ball thriller of Indian Premier League 2022. Gujarat Titans are finding various ways to win these cricket matches under immense pressure. They are right at the top of the points table with their only loss coming against the same SRH side. But, what was important to note in this encounter is the impressive bowling performance of the new pace bowling sensation of India. Umran Malik has managed to pick up his maiden five-for in this match with four of them finding the bottom of the timber. He just rattled up the top order with ease, but Tewatia along with Rashid Khan finished the match for Gujarat Titans.
The whole world was mighty impressed by the raw pace and accuracy of the Kashmiri Express. But there is one man sitting quietly in the SRH dug out who had a huge influence in molding up the youngster to become the better version of him. He has shown praises upon his fellow students. He said that Umran is not only among the pick of the bowlers of the tournament that could don the Purple cap at the end, but also this could be his way towards the national side. Steyn reckons that a national call up is just at the doors for the youngster. 
Umran was fantastic: Dale Steyn
"Umran was incredible. I believe he has secured a future berth in the Indian team. I might have to eat my words. "He was fantastic today," remarked Steyn in a video uploaded by Sunrisers Hyderabad on their official Twitter feed.
"The pitch conditions suited him wonderfully, just like they did with (Mohammed) Shami, and he rushed in and struck the deck pretty hard." Straight lines were bent swiftly, and the timber was frequently disturbed. "He was simply fantastic," he added.
Besides his quick pace, some other aspect of Umran's abilities that grabbed attention was the yorkers which fooled even some of the most experienced batters, with Wriddhiman Saha being one of those despite reaching 68 runs in 38 deliveries. Umran is currently second on the list of Purple caps with wrist spinner Yuzvendra Chahal topping with 18 wickets to his name. After the five for Umran has now 15 wickets to his name. He will be keen to continue clocking the raw pace more often. The whole world is excited by the fact that the Jammu express brings a different kind of excitement onto the field with his pace.