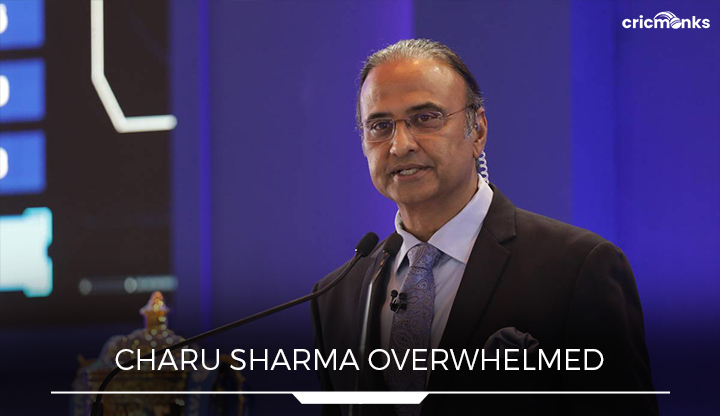 The whole Mega Auction was put in a spot of bother after auctioneer Hugh Edmeades collapsed midway through the process. But, the break never extended for longer as expected because the seasoned broadcaster, Charu Sharma, took the mantle and gave his full effort to make the auction a success. Hugh Edmeads, who was the originally assigned auctioneer, was not in a position to continue with the event and someone had to replace him. Charu Shama, who was experienced in this field, had to come up and take control of the event that happened in Bangalore. The incident forced everyone to have an early lunch on day one of the auction. It was a shocking event during the bidding process for the Sri Lankan spin magician, Wanindu Hasaranga.
Charu Sharma was suddenly called up for the event by the IPL chairman, Brijesh Patel, to replace Hugh Edmeades. He was going about his normal routines and was asked to reach the ITC Gardenia as quickly as possible to host the auction. Hugh Edmeades was in no position to continue with the process and they needed someone who was familiar with the scenarios. Charu Sharma is a well-known figure in the fields of sports and entertainment. All it took was half a second for him to agree. He came there in a jiffy to reach the venue and had a briefing on the situation that barely lasted for 15 minutes.
Sharma is no stranger to auctions, as he has conducted numerous auctions for the Karnataka Premier League and multiple sporting events. He also works as a professional auctioneer for Bid and Hammer, which is a Bangalore-based auction house. He has well experience e world of sports and everyone was quite impressed with the way he took hold of the situation without any hesitation. He also shared his first impressions of being called as a replacement auctioneer.
"I knew the auctions were taking place here, but I hadn't tuned in to follow up on what was going on. It was a call from Brijesh and I had to respond to an emergency. I was physically available, and auctioneering is a significant part of who I am. So, I immediately rushed," Sharma said.
The assignment was unexpected and so were the reactions: Charu Sharma
The old hand has come forward to express his gratitude for being called as an auctioneer on short-term notice. He said he is overwhelmed by the reception he got from fans and well-wishers all over the world on the completion of his IPL mega auction.
He was asked to do the job with no trials and rehearsals and never looked like panicking and was quite calm and composed while doing the procedure. He ensured that the auction lasted the whole two days without any issues.
Even though he was called as a quick cover for Hugh Edmeades, he had to continue with the role for the next day as well. Hugh was not 100 percent fit to come back to work and Charu Sharma had to continue his duties.
Sharma first came into the role of a commentator during the 1982 Asian Games for Doordarshan. With time he has served different positions in the field of sports and entertainment that include broadcasting, commentating, and auctioning.
"Back then I had felt being a TV commentator was not something I wanted to do for a living. But anyway, I got pushed into it. And my salary as a commentator was C200 for a day's work. Auctioneering is not complicated, but you need your adrenaline flowing and understanding of what's going on. It has been heartwarming to receive such messages. The assignment itself was unexpected and so were the reactions," Sharma added.