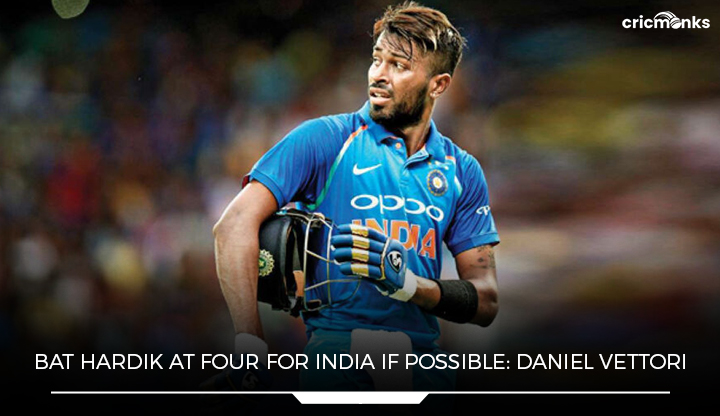 Legendary New Zealand captain Daniel Vettori has revealed his thoughts on Gujarat Titans skipper Hardik Pandya's place in India's side for the forthcoming home series versus South Africa, stating that the all-rounder must bat at No. 4. Vettori viewed it as the perfect spot for Pandya and suggested that the Indian authorities should consider it. Pandya had been remarkable for the Gujarat Titans right throughout the season.
Pandya had already earned a reputation for himself as being one of the deadliest strikers in the cricket world by having a sensational finishing ability. He was always considered a lower-order batter right through his career. But, the fact that he promoted himself to bat up the order for his IPL side, made everyone wonder about this facet of Pandya's batting ability. 
He has shown the management that he is mature enough to play the longer innings by building partnerships in the toughest number four spot. The Men in Blue have experimented with a number of middle-order batsmen, including Rishabh Pant, Suryakumar Yadav, and Shreyas Iyer, but have yet to reach a solid decision on who should bat in that position.
"If you can fit him in at No. 4, I think, go for it. That's the perfect position for him. You don't want to take anything away from the likes of Suryakumar Yadav. But, if this option is there, it will be great. As of now, though, it feels like he's going to slot into No.5, with Pant potentially dropping down to six," Vettori told
Hardik Pandya will be back in blues for the Proteas series
Pandya was outstanding in all of the positions he performed for GT, whether it was captaincy, batting, or bowling. He made a fantastic resurgence into the competition after recuperating from an injury that had taken him out of the system for a long period. Pandya scored 487 runs with a strike rate of 131.26 and took eight wickets throughout the season.
As the T20 World Cup comes, the Indian team leadership will be seeking to fine-tune their lineup, and the next home game against South Africa presents an opportunity to do so. India will play five Twenty20 Internationals against South Africa beginning June 9, followed by a white-ball series in England and the completion of last year's rescheduled fifth Test.
There will be a lot of fresh faces in the upcoming limited-overs fixtures of the Indian side and the management will be looking to give as much opportunity as possible to the future stars to build the perfect side before they head into the T20 World Cup in Australia later this year.
The Indian Premier League provided an opportunity for many fresh and familiar names to stake their claim on the field and earn a spot in the Indian squad. Although Umran Malik and Arshdeep Singh were called up to the Indian squad following good seasons with their current teams in the IPL, Dinesh Karthik, Kuldeep Yadav, and Hardik Pandya returned to the T20I group.